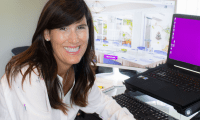 By Jill DeWit
March 11, 2019
Who knew that our online community would grow to the size it is today and provide so much guidance and support?  
To date, the LandInvestors.com online community is made up of 1,698 members with a whopping 3,142 topics; 9,674 replies; totaling 12,816 posts.  
That is truly amazing.  
The Back Story 
Steven and I launched Land Academy in the summer of 2015. It took us over 6 months to write, film, and edit our first program because we wanted to include EVERYTHING we could imagine someone would need to know to be able to start and maintain a land investment business like ours. Shortly after the release, we had a few members reach out to see if they could connect with us in some way to provide feedback and get tips or answers to questions as they came along.  
That led me to ask Steven to develop an online community – just as I was heading out of town to visit a friend for the weekend. And boy did he come through. Steven spent the ENTIRE weekend building an amazing site for us and our members to collaborate and communicate. Originally SuccessPlant.com, it is now LandInvestors.com. 
Free and available to anyone, this is THE PLACE to find answers to anything land related. With close to 13,000 posts, there is a good chance someone has dealt with whatever topic for which you are searching.  
The Best Part
Steven and I set out to create a community of like-minded individuals who are here to not only start/grow their land investment business but, see the value in working together to get there faster. And it worked.  
How I best describe the investors in our online community: 
They were you. 
They are you. 
They will be you. 
They were you, because we all had to start somewhere. We all had to get the first deal out of the way. No one is truly self-taught. We got some sort of a hand from someone. And they remember someone helped them and they are happy to return the support.  
They are you, because we are all doing a version of the same thing. We are all investors, running our own businesses, working toward similar goals. 
They will be you, because there is always someone ahead of you and that promotes growth and goals.  
Every day I am humbled by a what we have created. This is a note that I received TODAY via my Facebook messenger account: 
Wanted to thank both of you. Thank you!! We just bought a 17 acre property outside of Tulsa for $38,000. Sold it today for $130,000!! Closed on it last Thursday and sold it on Monday! This is going to change the Flood Family life. Thank you for putting this program together. I never, NEVER would have thought of this in a hundred years, if you PAID me to brainstorm business ideas! I can't say thank you enough. 
Glad you are here! 
Jill