Career Path 7 and 8 is now live!
There is still time to sign up!
The best way to fast-track your business.
DATES:
CP 7 Wednesdays Sept 27-Nov 15 (8 weeks)
CP 8 Saturdays Sept 30-Nov 18 (8 weeks)
SCHEDULE:
Guided Module 12-2 PM PT (3-5 PM ET)
OFFICE HOURS:
10-11:30 PM PT (1-2:30pm ET) (Starting Week 2)


Secret
Message
From
Land
Academy
Loves
You
Very
Much
 DATES:
CP 7 Wednesdays Sept 27-Nov 15 (8 weeks)
CP 8 Saturdays Sept 30-Nov 18 (8 weeks)
SCHEDULE:
Guided Module 12-2 PM PT (3-5 PM ET)
OFFICE HOURS:
10-11:30 PM PT (1-2:30pm ET) (Starting Week 2)
70+ Land Academy members have graduated from our Career Path Course. This 8-week training is a deeper dive into Land Academy's education and business processes and is individualized to fit the needs of each student. These are small groups, allowing Jack & Jill adequate time to dedicate to each student as they work toward achieving their goals. There is a wide range of professional backgrounds in every class, many are just getting started, some have done a couple successful deals and others have established careers and businesses and want to make it to the top.   
Jack & Jill kick the group off by assessing each student's current level, their short and long-term goals and each session is then tailored to cover topics relevant to the group. Upon graduation you'll be a land investing pro and have the confidence to effectively manage your land business.  
Get special access to Land Academy's top Transaction Coordinator, the Offers to Owners and Concierge Data teams, and land academy moderators. Each class includes bonus presentations on topics like IRA's, mobile homes, and subdividing. You'll gain new contacts, develop partnerships, and create business processes that allow you to work less and make more.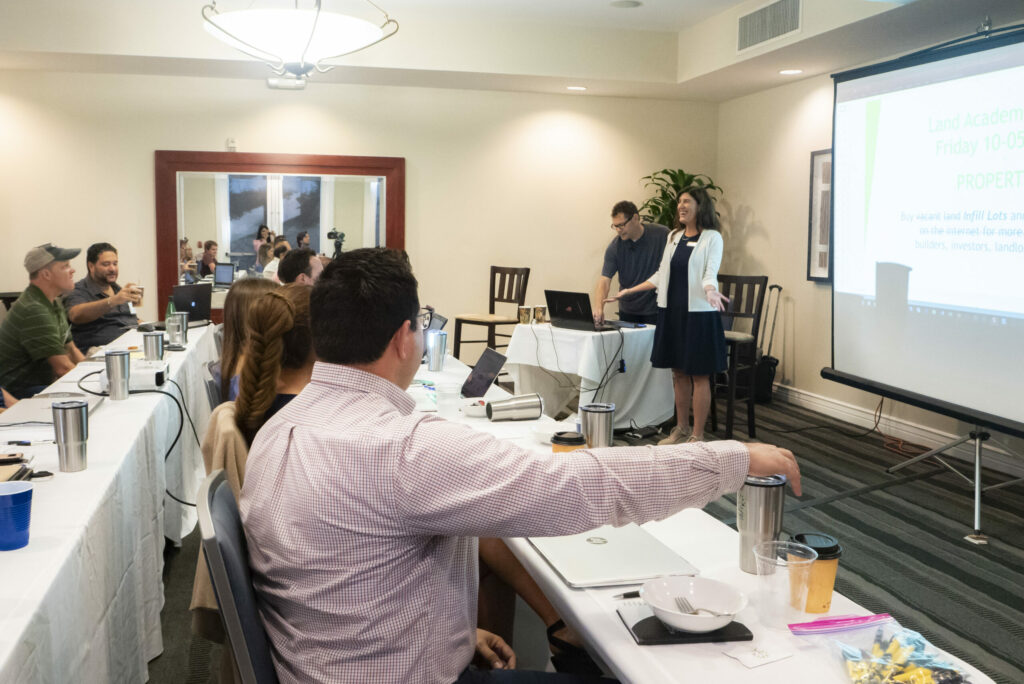 Looking for a more personalized experience than our self-study?
Ask our team today and schedule your free consultation!
What You Get When You Join Career Path:
Customizable experience as limited to 15 attendees

 

Weekly Modules delivered LIVE by Jack & Jill (via closed Zoom environment)

 

Additional weekly Office Hours* for extra unstructured time with Jack & Jill

 

Breakout sessions and 1:1s scheduled as-needed

 

Special Sessions with Land Academy staff including our Transaction Coordinator and Concierge Data expert.

Dedicated Career Path phone line (forever!) for instant

 


assistance
Elite group Discord "Chat" for Career Path attendees

 

Front-of-the-line Land Academy Deal Funding Review

 

Upon completion, you are part of the Land Academy Advanced Group

 

10% off all O2O mailers sent during Career Path

 

Ongoing accountability group opportunities

 

Bonus Module covering Mobile Home Specialization

 

And more…

 
What Career Path Students Say:
I wanted to directly tell you how much you and Jill mean to me and my life. My real estate journey started with excitement from a local RE guru in Austin teaching the lucrative world of REI in SFR, but it felt very intimidating to launch into that world with no money, or experience in a very competitive market. I found an article you wrote on Bigger Pockets and saw you had the Land Academy program and it was just what I needed! I have been able to barrel my way into land investing by doing with yalls help. Thank you so much!

I love that you and Jill are genuine people that are super successful. I can totally tell that y'all are my kind of people. Since I was a LA member in 2017, I have felt that you both are my virtual mentors and people I would love to befriend someday.
As we end 2022, Kathy and I want to tell you how truly thankful we are for Land Academy and allowing us to be part of your group.  We found Land Academy when we needed it the most and we are proud to say this our fifth (very) profitable year.  As you know, we just completed a trip to the Caribbean AND Spain.  These trips would not have been possible without your teachings and the profits we made from land-flipping.

Land investing has made a huge difference in our family.  It has given us an income to help struggling family members, pay for our daughter's education, and given us recreational money to spend on the good things in life.  We now have investing knowledge that will be with us for the rest of our lives and for that we are incredibly grateful to the both of you.
I wanted to take a minute to say Thank You to both of you for partnering on the transaction earlier this year.  I recently listened to your podcast around starting over and really appreciate your wisdom.

Doing the deal earlier this year with you guys will afford me a bit of a runway to keep going without freaking out on paying bills.  While I trust in the Lord for His provisions, I believe He gives us intelligence and puts people in our path at the right time.  I am thankful for you both and your generous attitude of sharing your wisdom. 
Ask our team today and schedule your FREE consultation!