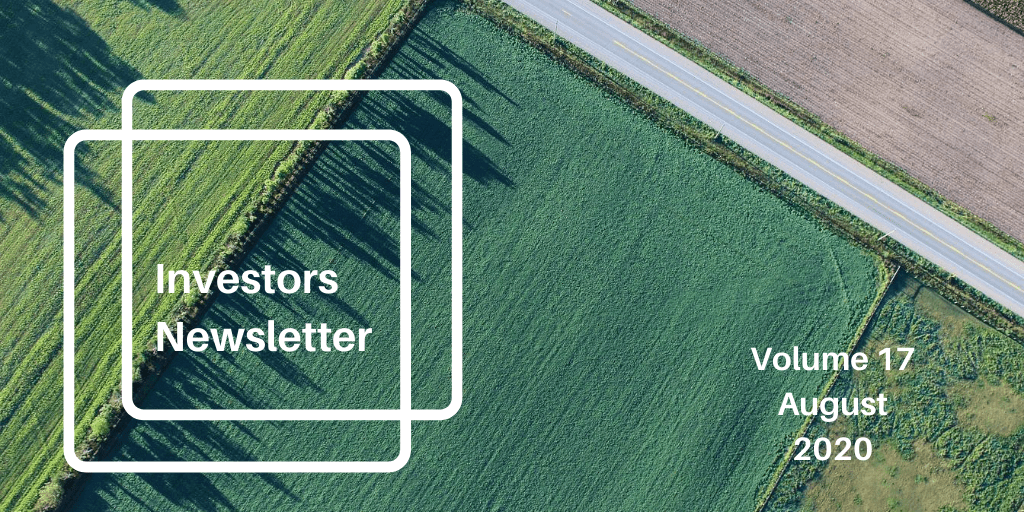 It's AUGUST already…?
Welcome back to the Investors Newsletter, a monthly online publication coming straight to you from professionals who eat, breathe, and sleep this business. We have industry updates, technology tips, and all other kinds of incredibly valuable information.
Whew! It has been quite the year. Despite all of the changes and craziness going on, we've been working on big deals, have made some even bigger changes to our companies, and have some HUGE new arrivals coming soon.
It's never too late – whether it's getting started in real estate, ramping up your business, or anything else! Join us in evaluating the first half of the year and starting the second half strong!
We still can't believe that last month we celebrated 5 years of Land Academy. Check out the video below to see some our milestones and favorite moments, and leave a comment telling us what your favorite Land Academy times have been!
As always, this newsletter is for you. Read it, bookmark it, share it, and feel free to let us know if you have any feedback, content suggestions, or questions!
Check out our Facebook Groups (LAND) (HOUSES) to connect with like-minded investors, ask questions, create partnerships, and more!
---
Just about every year most of the counties in Arizona hold what's called a tax deed sale. The gist of it is as follows: Property owners fail to pay their taxes for whatever reason. Incidentally, the single number one reason they stop is they are dead.
There are many triggers that cause people to discontinue to pay their property taxes, and they are usually the same triggers that cause them to sell their property to people like me for pennies on the dollar. Anyway, property owners stop paying taxes and after about five years, the state of Arizona has the right to take back the property in a foreclosure proceeding. The result of this is that each county is tasked with selling these properties at an auction. In all the years that I've been attending these auctions I've only ever seen a single family residence or a mobile home type property involved in these proceedings a couple of times.
The property involved in this type of auction is almost always rural lots and acreage.
Turns out, this is my kind of property.
I have hundreds and hundreds of stories about attending these auctions all over the country. Check out our podcast and our LandAcademy TV series. Some of my best stories about buying property at live auctions in there.
This story is in the top five.
Once in a while, county officials get lazy or complacent. Or maybe they just run out of time. By law, the county must follow statutory procedures when they hold an auction. Even though it's the 21st century, a list of the properties to be auctioned off must be published in a newspaper. Often, this is the only place counties publish this information. And in this case, it did not make the Internet. This is not the first time this has happened, so I have a $12.00 a year subscription to the particular small town paper where this information is published once a year. So I showed up at the auction and there were only 5 or 10 other people/bidders.
I know from experience, that most of the other people who attend these auctions are local people. And I don't mess with the locals. They usually are interested in one or two properties that may be surrounding land that they already own. This auction had about 150 or 200 properties listed. This is usually the sweet spot for most auctions, because an auctioneer will run out of energy and time after about 180 properties or so. As will the bidders. This is true of all types of auctions, regardless of what is actually being sold; Cars or furniture or whatever.
As the story unfolded, this county had about 1,500 properties to get rid of. Or more specifically to get back on the tax rolls. It's important to remember that counties love to get property back on the tax roll, meaning the new buyer at the auction is now responsible for paying the taxes on a go forward basis.
1,500 properties is way too many to be auctioned off individually and one day. So the last line item in the auction contained about 1,100 properties. I bought all of them for $10,000. And I was uncontested.
All of the locals already got the property they wanted. $10,000 divided by 1,100 properties is $11.00 per property.
I sold most of them to a long time land competitor for about $500 each or half a million dollars.
---
Live Shows
In case you missed it, Jill recently went live to celebrate our 5 year anniversary, give away a free program, talk about how to buy and sell land in 2020, and do an open Q&A. If you haven't watched it, it's worth clicking the button below and checking it out. It was designed for newcomers and seasoned investors alike, so we're sure you'll gain some helpful knowledge from it.
If you liked that, you'll LOVE our next live.
Jill will be going live on Facebook on 6/26 at 3:30 pm PT to talk about "How to Scale Your Land Business."
She'll have some special surprises and treats for you there! You can view more information on our Facebook as we get closer, and we will be sending out email updates as well.
---
A Message From the Offers2Owners Team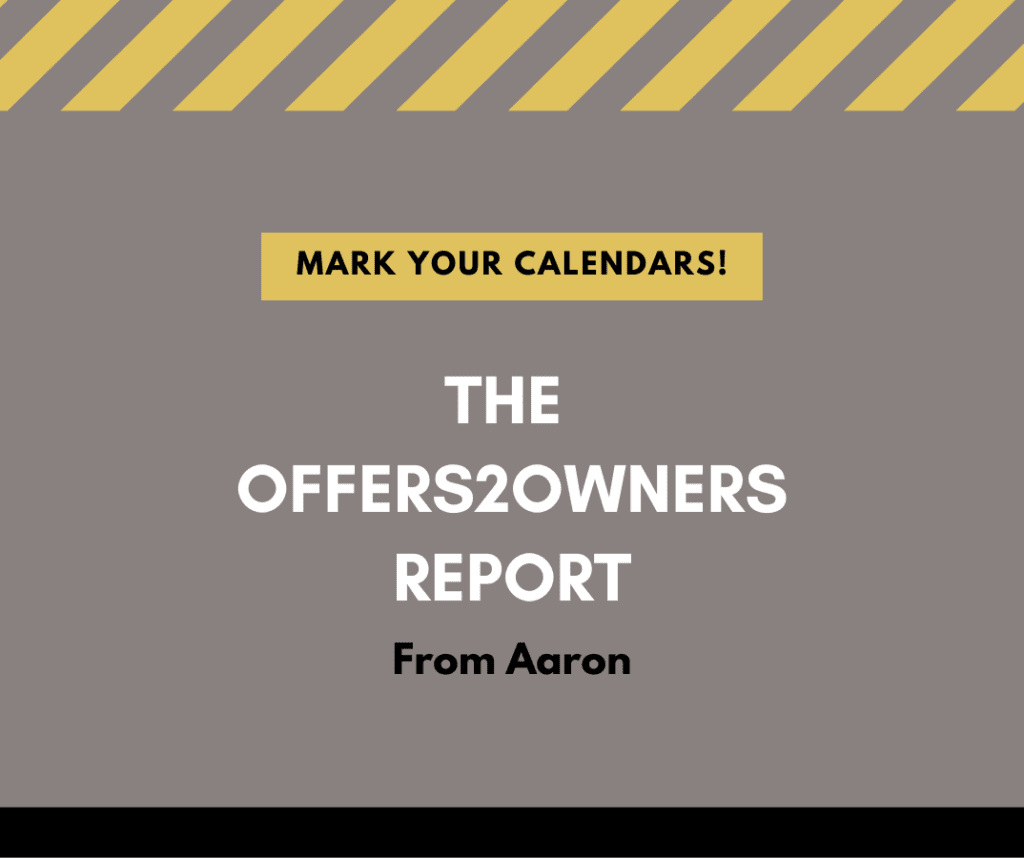 Ready to send your next mailer?
Updates:
Offers2Owners has something coming that we are excited to share with you all coming this year – Keep an eye on your emails and our social media pages!
In the meantime do not miss out on our first "10 for 10" 10% OFF for 10 days straight starting August 10th! Use this time to get your mail ready and get excited!
Use Code: "10DAYS"
When: August 10th – August 19th
Minimum:
Having trouble with the new Document Dashboard? Take a look at our Resources to find the new O2O How To Videos!
It is time to share – Offers2Owners has been growing since our establishment in September 2017. We have sent over 7 million pieces of mail to date, which translates to $100 million in net equity generated for our members.During these times we expected things to change forever and less mail going out. We were pleasantly surprised that our members have taken advantage of the time spent at home. Offers2Owners is on track to break another record for mail sent within a year.Minor Updates:If you have not seen/heard it yet, I am happy to formally announce that we have opened Smart Pricing Service to ALL Land and House Academy members.Smart Pricing Service is a service Offers2Owners provides to Investors who would like to sub out the task for pulling values of homes from five sites Zillow, Trulia, Redfin, realtor.com, and RealtyTrac. You using this service have a better idea of what the average price it for that home/market, which in return makes it easier to price your lists. This process is the same one covered in House Academy 1.0; SFRs (single-family residences) Education Program (Chapter 6)! We want to give a spotlight on one of the products that we think everybody should try at least once, which is Full Service – which we consider a 2 in 1, which is a combination of Docs Ready and Property Ownership Records.
How it works:
1.We download your data using data provided by Data Tree & Real Quest
2. You will scrub your data & add your pricing to the list we provide you with
3. We complete a Mail Merge with your/our letter template
4. You will receive a PDF copy to review, which you may make changes to or approve it through our Document Dashboard
5. After that, we will then get it printed and inserted in an envelope and mailed
If you would like to try Full-Service, go to the product page, and schedule a call with a member of Offers2Owners. We will discuss all things O2O and more in the upcoming blogs. This is Aaron Belt for Offers2Owners, thank you for reading and I will catch you on the next one.
Happy Mailing!
---
Podcast Corner
---
Member Updates
Jill and Steven are committed to the success of all members. They understand that everyone learns differently and we all have our strengths and weakness. With that being said, Steven and Jill have consulting calls to ensure each member can get the one on one attention and help you deserve.
Click the link below to schedule a call with them.
Jill: HERE
Steven: HERE
---
Have Suggestions For Membership?
Is there a site or tool you use that you think we should add?
Want us to develop a certain type of tool?
Is there something missing from our current sites that you want added?
Have specific content ideas?
We're all ears! We're always adding to membership and improving on what we always have, and we know that you have great ideas!
You can always email us at support@landacademy.com with any suggestions or ideas.
---
Marketing Tips
Flat Fee MLS Services
By the Marketing Team You have bought your first property and have listed it on all the free advertising platforms such as your website, Facebook marketplace, Craigslist, eBay, other 3rd party apps, etc. You feel that the benefits would outweigh the cost to list your property on the MLS.
In some situations, you would want to go through a realtor to list the property on the MLS. However, in other situations, you would rather do it yourself and list the property on a flat fee MLS service at a lower cost. We have received numerous messages and posts about flat fee MLS services.
So, we put a list together with some flat fee MLS sites that some of our members use to list their properties on the MLS:
– Marketing Team
---
---
This month's question came from Julie
over on LandInvestors.
rice offer adjustments/percentage due to Global Crisis (Corona Virus) ? How is everyone adjusting their offers for land and houses, due to the global crisis /stock markets plummeting , etc?
I was ready to send out a land and house mailer, but now I should adjust my offers?What percentage are you offering NOW? on Land? On Houses? Any suggestions are greatly appreciated!
Check out Steven and Jill's answer HERE.
Check out Julie's question HERE. Make sure you read the answers from our community – we love to hear their valuable input!
In celebration of Land Academy's 5th anniversary, we wanted to take a moment to recognize all of you.
Our current members, without you, none of this would have been possible. You all are amazing. Each one of you has taken the program and applied in ways we never thought possible.
We are so honored to have a group of dedicated, intelligent, and empowering people with us. Your adventurous and kind spirits are what sets you apart from the rest.
Thank you for always pushing us to learn and grow more as individuals and a company. Cheers, to another five years together.
Watch Steven and Jill over the past five years. HERE.
---
If you aren't a member yet – why not? We would love to have you "in our corner." Visit LandAcademy.com for more information on joining or to schedule a call with our team.
If you want an opportunity to attend one of the weekly closed member calls to get a taste of what we're about, send an email to support@landacademy.com