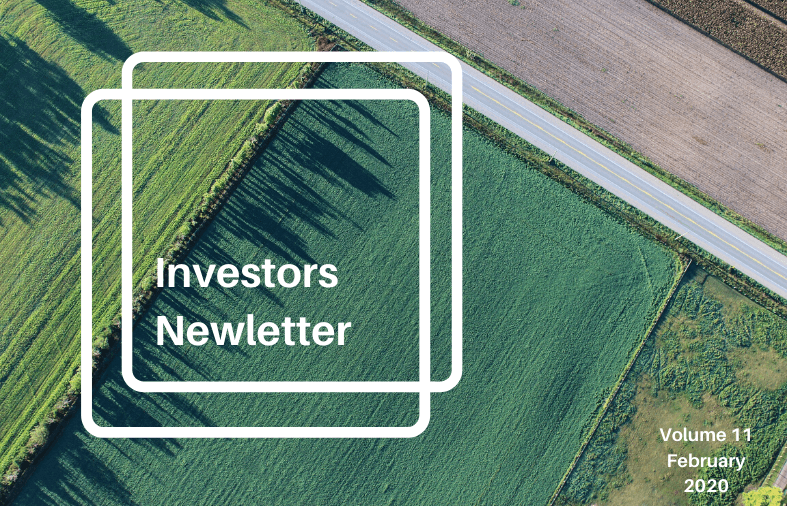 We're in LOVE…
… with how this year is going!
We're doing our own deals, doing deals with you, creating partnerships and new opportunities, and doing things that we never could have dreamed were possible – and we're only in the second month of 2020!
We couldn't be more thankful for the community we've developed and connections we continue to make, and we're genuinely honored that you are a part of it. We can't wait to share everything we've been working on with you and to bring you the same information, tips, and everything else that we always do.
Don't forget to check out our Facebook Groups (LAND) (HOUSES) to connect with like-minded investors, ask questions, create partnerships, and more!
As always, this newsletter is for you. Read it, bookmark it, share it, and feel free to let us know if you have any feedback, content suggestions, or questions!
---
Finding the Perfect Zip Code in LOS ANGELES COUNTY
Saturday morning my family scattered after breakfast to do their own thing; La Crosse tournament, shopping therapy etc.
With the house to myself, I settled into my life long unintentional hobby / pastime; online real estate data analysis.
It always starts the same way and sucks me in; an email notification from realtor.com and or redfin.com about new listings in Los Angeles. I take the bait knowing what my life will be like for the next 5+ hours.
After scrolling around Los Angeles, I find what I'm looking for. The perfect zip code.
Let's dig deeper…
.12% of all the SFRs in the zip code are listed for sale in the MLS (9 active listings out of a universe of 7349 SFRs is .12%). A fantastically low number.
How does this zip code stack up against the rest of Los Angeles County? Below are direct and free downloads from RedFin Data compiled in MS Excel.
My instincts were correct.
Column E $740K average sale price, which is great because it's expensive enough for me to mail blind offers out to all 5,300+ homeowners at $150K less than current market value.
Columns F & G say the median sale price is larger than the list-price so some bidding is going over the list-price, indicating high demand.
Columns H, I & J say that there are a very high number of properties sold each month indicating a hot market or, again, high sales demand.
Columns K, L, M, N, O & P tell me there are less listings each month than sold listings, indicating high demand again and low supply.
Column Q is the nail in the coffin; Days on Market below 30, indicating high demand.
This entire spreadsheet pits each LA zip code against others to see which areas perform as the best "automatic sales candidates."
Which leaves me with exactly one task as an investor; find an underpriced SFR using the mail in this identified zip code by simply sending every owner in the zip an appropriately priced offer.
History will repeat itself, and for every 1,800 offers sent, one property will get purchased for the price I offer (1 or 2 houses purchased for 5,000 offers sent to 90504).
We usually net about $75K per house wholesale.
If you would like a copy of this spreadsheet or have any questions about our products, please contact support@houseacademy.com.
You can also download my research and analysis files below.
---
Updates:
We have some great site updates, features,and new products coming your way!
As Offers2Owners continues to break RECORDS monthly.
More and more mail is going out, and we are noticing the same minor mistakes in mailings.
Luckily, these are easily fixed and preventable, by you taking a look at our Resources to find our Free Templates, FAQ's, and Videos.
These will give you information on the most common mistakes and how to have your Documents ready for merging and/or printing.
We would like to formally introduce our new Offers2Owners manager, Aaron Belt.
If you haven't spoken to him yet, you will soon! He has stepped in and implemented new changes that many of you may have heard or seen already. We can't wait to see what he does in his new role!
Psst…. we have a new sale coming TOMORROW.
Valentine's Day is around the corner, as we all know, so we thought it would be SWEET to offer 14% off your mailers – the largest discount we've offered yet – for 3 DAYS only!
Code: LOVEMAIL
Order minimum of 1000 units
Cannot be combined with other offers.
Starts Friday, February 14th and runs through Sunday, February 16th
---
How to Overcome Newbie "Lack of Confidence"
By Jill DeWit
Whether you are brand new to House Academy or have been watching HGTV for years, taking that 1st step into buying a house with the sole intention of immediately marking it up to resell can sometimes seem daunting.
Jill tip to tape on your computer: Remember what you know and why you are doing this.
If you are a House Academy member, you know how to source and purchase an undervalued asset, aka a property worth substantially more in its current condition. You know what "triggers" to look for and how to select a "hot" area. You know how to get a solid starting price and how to back into your offer price. You know how (& where) to send inexpensive offers by the thousands directly to sellers; at the offer price that you know will work.
Now as the mail is in the process of being delivered and the calls/mail/emails are about to pour in – it is the time to get ready and confident to build quick trust and rapport with sellers.
How do you do that?
1. Know your stuff and stand behind your pricing.
You probably put at least a full weekend into picking a city, running a version of red/yellow/green tests to compare zips/areas, not to mention the hours spent over pricing to make sure your offers are low enough to meet your criteria while promising to motivate sellers. There will always be one-offs, but go into every situation as if you are 100% ready to act on the offer price you made.
2. Use your peers for practice or advice.
One of the benefits of a community (such a House Academy) is the amazing resources available to you. Not only have you learned/watched a deal all the way through, you have ongoing support from peers via the online community and weekly webinars/calls. There is always going to be someone a step ahead of you to prepare you, and someone a step behind you that you can help.
3. Be prepared to pass on deals.
One of the reasons I sleep very well at night is because I never enter into a deal that I am not 100% sure about. I know based on experience, roughly when it will sell and for how much. Since you don't have that experience yet yourself – you need to be even more critical when reviewing deals and trusting of your instincts. I often see new members trying to force a deal (when there is nothing good there) just to try to get one under contract. That's the quickest way to fail. It's far better to be uber picky and pass on deals that might have been good and hold out for a great, easy one to get the ball rolling.
Remember house deals typically tie up hundreds of thousands of dollars for a few days/weeks, and you don't want to overpay or be stuck with an asset tying up your funds.
I am very comfortable calling sellers back and letting them know that I am sorry, but for X reason the deal no longer works for me and I wish them well.
Practice and get very comfortable saying that sentence and you are there.
---
Land Academy Enrollment is Officially CLOSED
(but you can still get involved!)
You heard it here first!
We have successfully created an impressive group of extremely intelligent investors and we are together growing our businesses. We are all funding other members' deals, working together to take down large transactions, and creating sub-groups to specialize in other profitable niches – and we capped it at 500.
What does that mean to you?
We have opened up a waitlist for anyone eager to join. As spots open up (people do move on at times) we will first make the spots available to the waitlist.
Join the waitlist HERE.
Other ways to get involved –
Join LandInvestors.com, our free online forum.
Request an invite to join one of our closed member calls.
Join our Facebook Group.
If you have questions about membership, you can schedule a call with us or email support@landacademy.com for more information.
Don't forget to take advantage of the huge price break/discount you get as a LandAcademy Member! Log in to view the member pricing on Offers2Owners using the password found on your Land Academy Member Dashboard.
Check the Message Center! This is where we post weekly call information, any important updates, special deals for members, and all kinds of exciting information! You can find it – you guessed it – on your Land Academy Member Dashboard.
---
Member Announcements
For the FIRST TIME EVER – ACCESS to DATATREE is now included in Land Academy membership!
DataTree nationwide access is now included in membership (effective January 1st) – which means through Land Academy you now get access to all THREE top assessor's data sources (RealQuest, TitlePRO, and DataTree).
What do you need to do if you haven't already accessed your new account?
Check your email for one from DataTree sent the first week of January.
Follow the prompts and links to set up your account and password.
That's it – you have unlimited nationwide access to DataTree. Have fun!
If you think you didn't receive an email, please first check your spam/junk because DataTree account emails tend to go there. If it isn't there, please email support@landacademy.com for assistance.
Don't forget – record downloads are charged at the rate of $0.10/record + 3.5% processing fee – the same as they are with RealQuest.
Consulting
You can now schedule 30 minute consulting calls with our very own moderator, Kevin Farrell!
You can schedule a 30 minute call with Kevin by going to Land Academy under "tools", or looking on the right-hand side of LandInvestors.
You can pick Kevin's brain – he's here for anything from deal reviews to where to start with your land business. We love Kevin, and we're sure you will too.
Just click the link and schedule your call today!
---
Marketing Tips
Organic Content Ideas
Many people do not post organic content on their social media business account because they feel it is time-consuming or there is no instant value. However, organic content does so much more in the long run than people tend to realize.
Organic content can build trust with an audience because they will see that you are constantly active on social media and will help decrease some doubt in the account being a "scam". Additionally, the more content that is out, the more chances that account has to appear on the audiences' social media feed.
Here are some ideas for organic content:
Write tips
Write quotes
Write questions
Graphics
Blogs
Videos
Outside credible links that are relatable to the business
Promotions
Webinars
Podcasts
Organic content is a great way to build your following and your business – so don't let it slip through the cracks!
---
SSL Certificates
Many members have come to me for help building out their land websites. Most of you already have some kind of starter site set up with GoDaddy or Wix. That's great, but these sites are often missing a major component: an SSL Certificate.
What's an SSL Certificate?
Short for Secure Sockets Layer (don't worry, there won't be a quiz later), SSL certificates ensure that any sensitive information about your site visitors will be transmitted securely. You've all seen the little padlock in the web browser bar on checkout pages. That padlock only appears if a site has a verified SSL certificate. If your site does not have one, then your visitors will get an ugly warning error message that it is not safe to use that site. No body wants that.
TIP: Be sure that an SSL certificate is included in your website hosting server's plan, so you don't get hit with a hefty bill to purchase a certificate. Many hosting providers, like Siteground and Wix, include a free SSL certificate with their most popular plans.
---
---
This month's question came from Bob over on LandInvestors.
He asks –
"How do you send a targeted mailer when there is no sense to the APN scheme ?"
Check out Steven and Jill's answer HERE.
And our Moderator Kevin's answers HERE.
Los Angeles County Builder, Mike Marshall is our Spot Light this month!
He has been a member since 2017, and we love working with him on Infill Reports. Watch Steven and Jill pick his brain and find out why Los Angeles is so hard to build in, and his transition from Texas to California HERE.
Listen to him talk about the importance of contacts.
---
Check out our Favorite YouTube Video in February!
Here's a sneak peek into one of our closed member calls where Steven & Jill will cover Counter Offers & More!
---
Watch and listen to our podcast!
We currently have TWO podcasts so you can catch us every week day. Our land podcast airs Mondays, Wednesdays, and Fridays. Our housing podcast airs Tuesdays and Thursdays. While they're separate podcasts, there is a TON of overlap on information so make sure you check them both out!
How to Find a Good County to Send Blind Offers to Land Owners (LA 1142)
Obsessive Calendar Scheduling (HA 64)
---
If you aren't a member yet – why not? We would love to have you "in our corner."
Visit LandAcademy.com for more information on joining, or to schedule a call with our team.
If you want an opportunity to attend one of the weekly closed member calls to get a taste of what we're about, send an email to support@landacademy.com.
---