Investors Newsletter – Volume 33
We have some exciting news, Career Path will now be on Saturdays, Jack and Jill going live, and special guests on the Land Academy Show!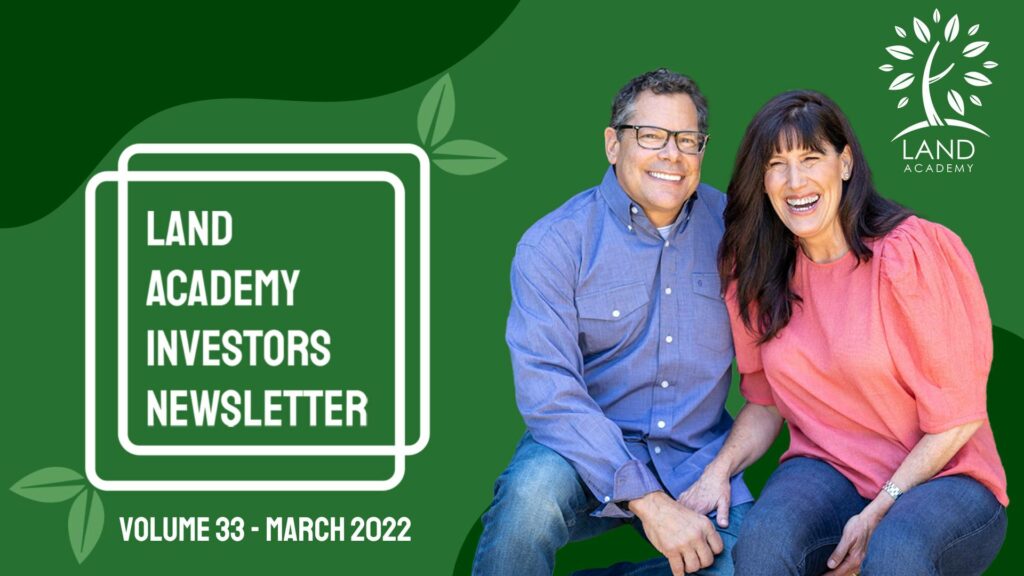 ---
Happy Land – ings
Can you believe we're almost a quarter of the way into 2022? (Neither can we!)
We know that there is a lot going on in the world right now – and we're here to stand by you, work alongside you, and get through this together. We're excited for the the recent launch of 3.0 and can't wait to see how you apply it to your land business.
We also have some exciting news, Career Path will now be on Saturdays, Jack and Jill going live, and special guests on the Land Academy Show! Members please check your emails for a special message from Jill.
---

"How To Get Over First Deal Jitters"
You've done the research, spent more than enough time on pricing and sent out mailers. You've probably already called the county and asked a few questions, and you know their processes and the contacts you'll need. You couldn't be more prepared and you're impatiently awaiting the calls.
But, if I had to guess, I'd say your also starting to feel the "first deal jitters".
You're going to be fine –
Again, YOU WILL BE FINE.
I know the anxiety is growing with each day, I've been there, but it's also a very exciting time in your career and I want you to soak it in. You've worked hard to get where you are.
If you want to wake up tomorrow and be an investor, you can. Just wake up, you're an investor today. And if you're a Land Academy member, you've got a massive following that was once sitting right where you are, and we won't let you fail. We created Land Academy to help others succeed and we want you to win big.
If there is a mistake to be made in this business, at least one of our members has already made it. All you need to do is reach out on Discord and someone will provide expert advice.
So, how do you overcome the "first deal jitters"?
One – Just sit back. Trust that you know more about the property and the area than the seller, because likely, you do. They might have just inherited the property or maybe they've owned it for decades but live 3 states over. I've had sellers that forgot they had the property and never stepped foot on the land.
Two – Be prepared. You'll need a checklist for when sellers call you back and, if you are a Land Academy member, I've already created one for you on landinvestors.com ("Jill's Inbound Land Seller checklist"). Print this out and always have it nearby, it's a good idea to save this on your phone so you can refer to it while you talking to the seller. You should also map out your entire process from start to finish so you know exactly what must be done, how to do it, and when to do it – think of it as your company's standard operating procedures (SOP) and include everything from buying to marketing, selling, and closing.
Three – Answer the phone. Go for it! After a few calls you'll get the hang of it, and it won't be long before you feel like a pro. With every phone call you will learn something new. If you do forget to ask the seller something, pick up the phone and call them back. It's a learning moment and you can use this opportunity to build an even better relationship with the seller. If you continue to forget to ask the same thing, highlight it on your checklist. Tweak your process until it works well for you.
If you're reading this and feeling a little nervous, please don't let it hold you back. Go for it. We are here to support you and we know you can succeed. You'll get out of this business what you put in, even with the "first deal jitters".
– Jill
---
A Message From the Offers2Owners Team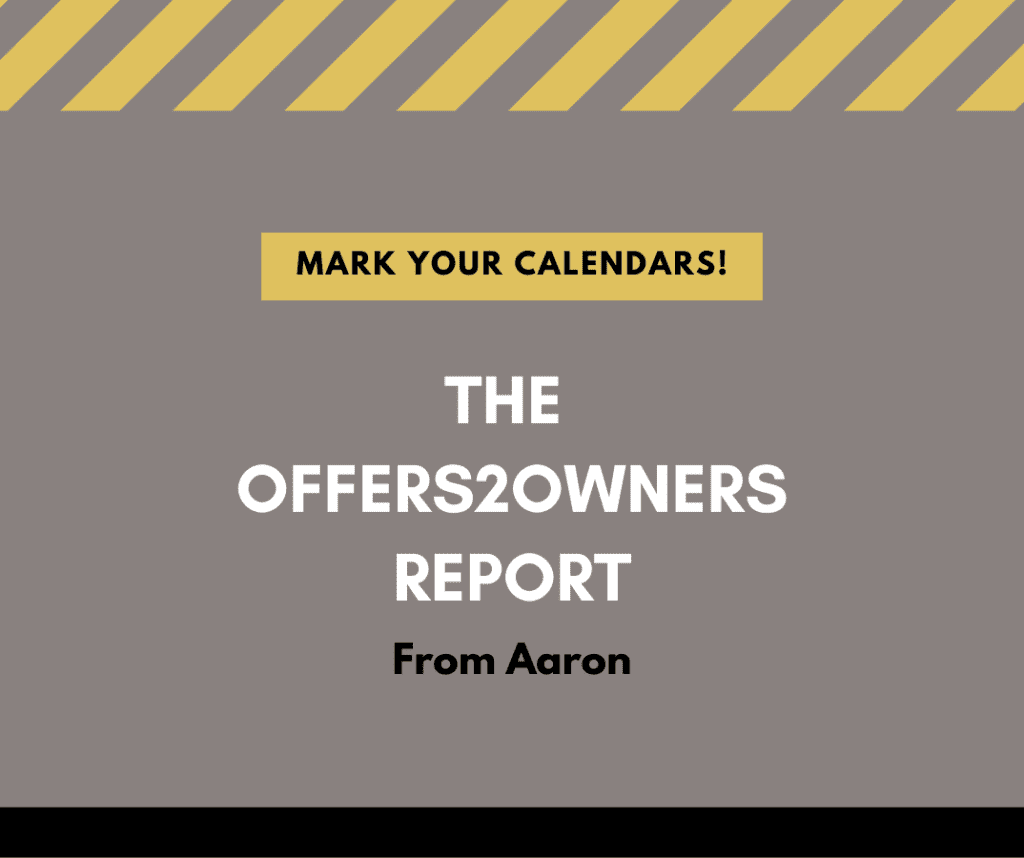 Offers2Owners Numbers:
Mail Sent In January: 608,794
Properties Purchased: 1,497
Data Pulled: 614,018
Supper Team Tip: (How to Use Prepaid Orders)
You can do the following to send your files to use your remaining mailers.
We will notify you if you go over the remaining balance that you have & advise you on how much your owe for the excess mailers/records.
Want to know your Prepaid Balance?
Send an email to support@offers2owners.com & a member of the team will provide you with an account breakdown with 24 hours.
---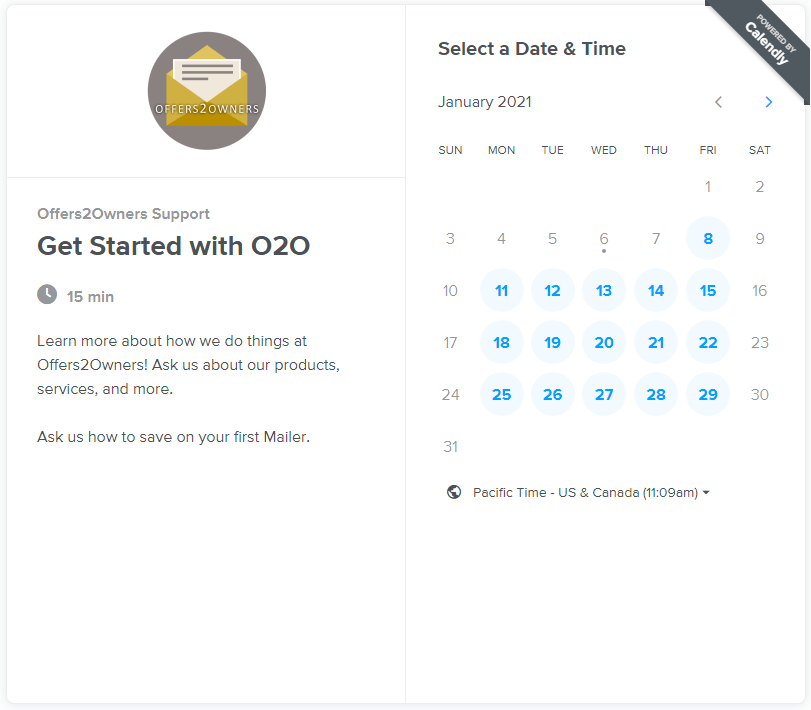 If you have questions, or need help getting started?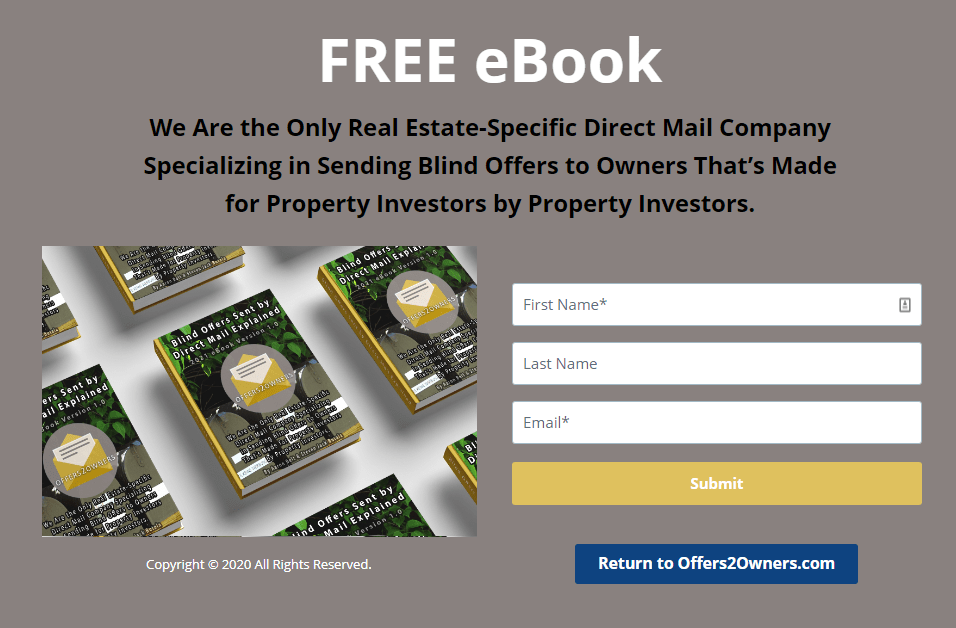 Want to learn more about how this works?
---
Podcast Corner
Check out some of our favorite recent ones!
---
Member Updates
We know the most common IT response for website issues is…
Clear your cookies and cache.
The reason being is when you use a browser like Chrome; it saves information from websites in its cache and cookies. Clearing them fixes problems, like loading, redirecting, or formatting issues on sites. Clearing your cache isn't a problem like your cookies; because we do not want to log back into every website. Trust us when we say we hate it too!
Even though it is preferred to do a "Remove All" on your cookies and cache every few months to clear things out. We have a way to avoid that and stay logged into your other websites. If you look at your address bar (the bar at the top of your browser), you will find an image of a lock. When you click on the image, a pop-up window will appear near the bottom, you can click on the cookies, and there you can clear all the cookies in use for the specific site while staying logged into all your other sites!
For more help on this topic, please email us: support@landacademy.com.
---
REMINDERS:
Don't miss out on Land Academy's Discord Group Chat!
The link to join the discord group chat is in your welcome email.
If you lost your welcome email don't worry, just email support and they will send you the Discord link. We also have Discord chats for the members-only women group and the accountability group.
If you haven't joined in, then what are you waiting for? Our email is support@landacademy.com.
Have Suggestions for Membership?
Is there a site or tool you use that you think we should add?
Want us to develop a certain type of tool?
Is there something missing from our current sites that you want added?
Have specific content ideas?
We're all ears! We're always adding to membership and improving on what we always have, and we know that you have great ideas!
You can always email us at support@landacademy.com with any suggestions or ideas.
---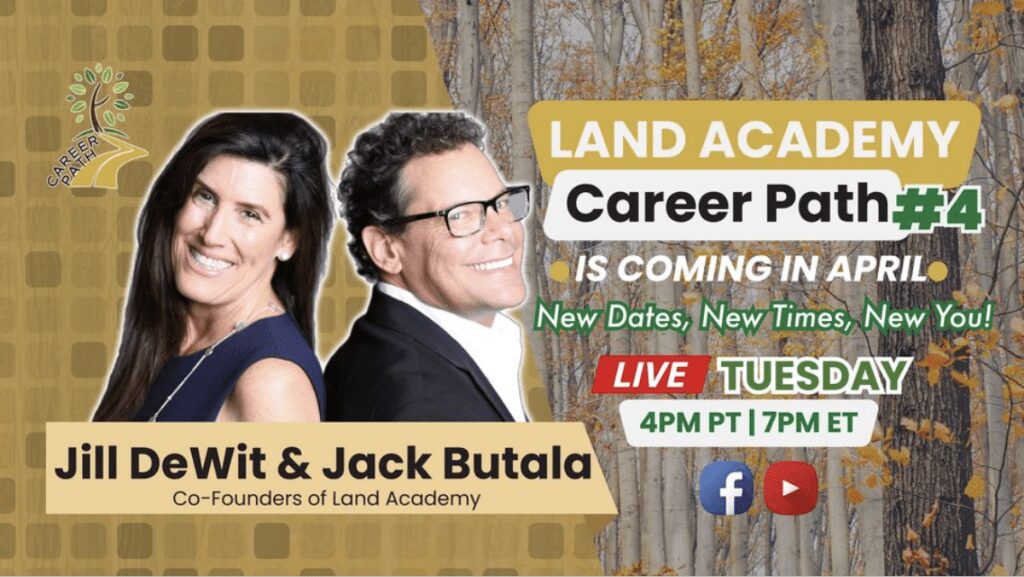 Don't Miss It!
Tomorrow we are having a live Facebook and YouTube event. Watch Jack and Jill talk about Career Path and the new changes instore for the 4th session.
Land Academy Career Path is a virtual 10-week program for anyone looking for an individualized path to success. We are only accepting 15 students so that we can really develop a program that is tailored to your specific needs – whether you're a beginner or an experienced investor.
See you tomorrow Tuesday, March 15th at 4 pm PST.
---
Marketing Tips
Using Instagram Stories Strategically
The "stories" feature on Instagram is a great tool to share content and engage with your existing audience, but for it to be useful, you need to know how to use it. At its most basic level, it's simple enough – you can capture pictures/videos on the fly to show what you're up to, upload pictures/videos from your camera roll, and share content from your feed. But how do you get your more people to view your story and actually pay attention to what you have posted?
For starters, there a few rules of thumb that you should abide by. 1) Don't post too much in one day! Nothing feels more exasperating that opening someone's story to see that they have an endless number of posts. Cap it at 4-5 story posts per day, in general. 2) Be intentional with what you post – as intentional as you would be when posting something on your feed. This will help with limiting the number of story posts you do in a single day. 3) Avoid using too much text in a single story post. Nobody's going to read all that.
Abiding by these rules is an excellent start, but let's take it a step further. There are various "stickers" that you can add to your story post, most of which are decorative emojis and clip-art-style images/gifs. There are a few stickers, however, that are interactive, such as the polls sticker, the questions sticker, and the quiz sticker. Interactive stickers such as these allow you to engage with your audience and tend to drive your story views up.
Check out Instagram's comprehensive guide on stories to learn more about the endless possibilities!
– Marketing Team
---
Join our Facebook Groups!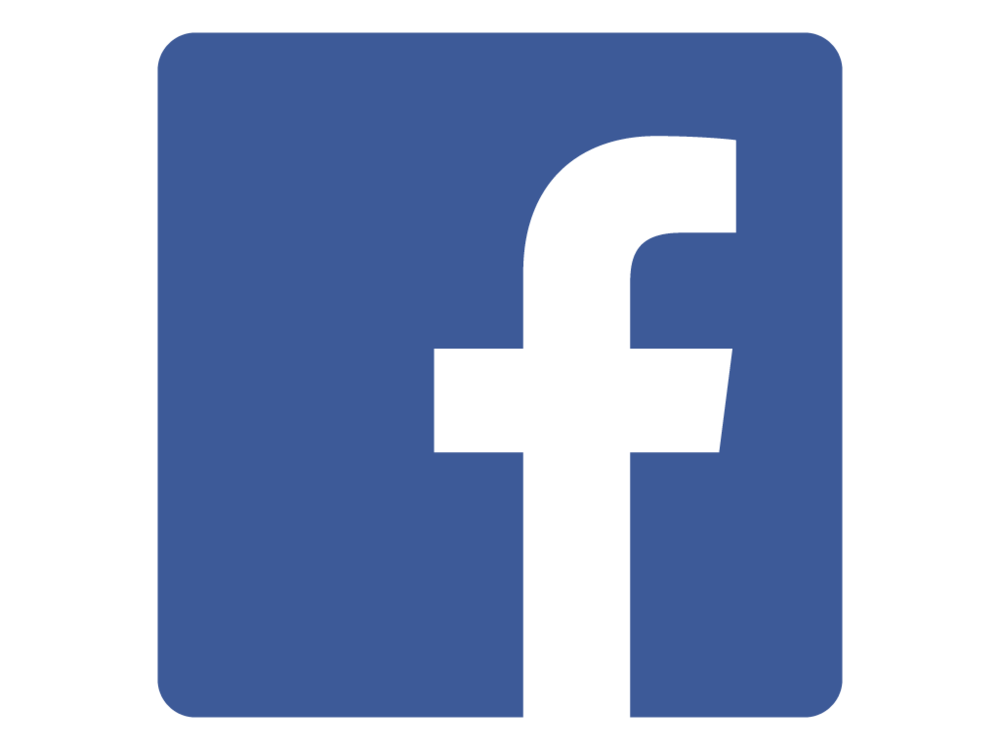 Land Academy: Real Estate Investing (Land Academy)
House Academy: Real Estate Investing (House Academy)
Offer2Owners: Offers2Owners Group
---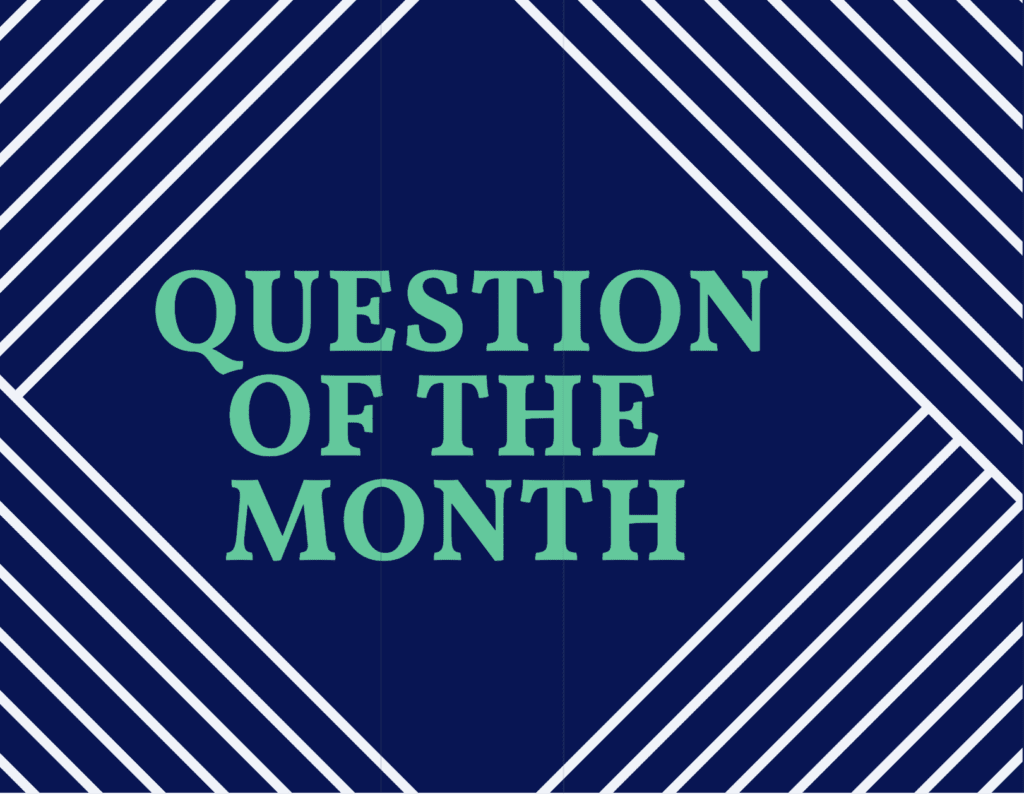 This month's question (more success story) came from Lucas over on LandInvestors.
My offer was for a property that was already listed. The seller and I couldn't agree on a price. However, he had a tiny parcel in a nearby county that he was also wanting to get rid of. It was so tiny that I wasn't sure if anything could be done with it, but it was right downtown in a nice community directly off main street. City zoning allows for trailers and modular homes, so I went for it
We agreed on a price. Closed quickly. I put it up for sale. I put up a for sale sign and it was under contract to sell within a week. Never even had time to get my posting online. Bought for $3,800 and sold for $9,000. Now I have enough cash to go back and try some deals that I missed from my first mailer. Again, I owe a debt of gratitude to this community.
Check out and listen to Steven and Jill's reponse HERE.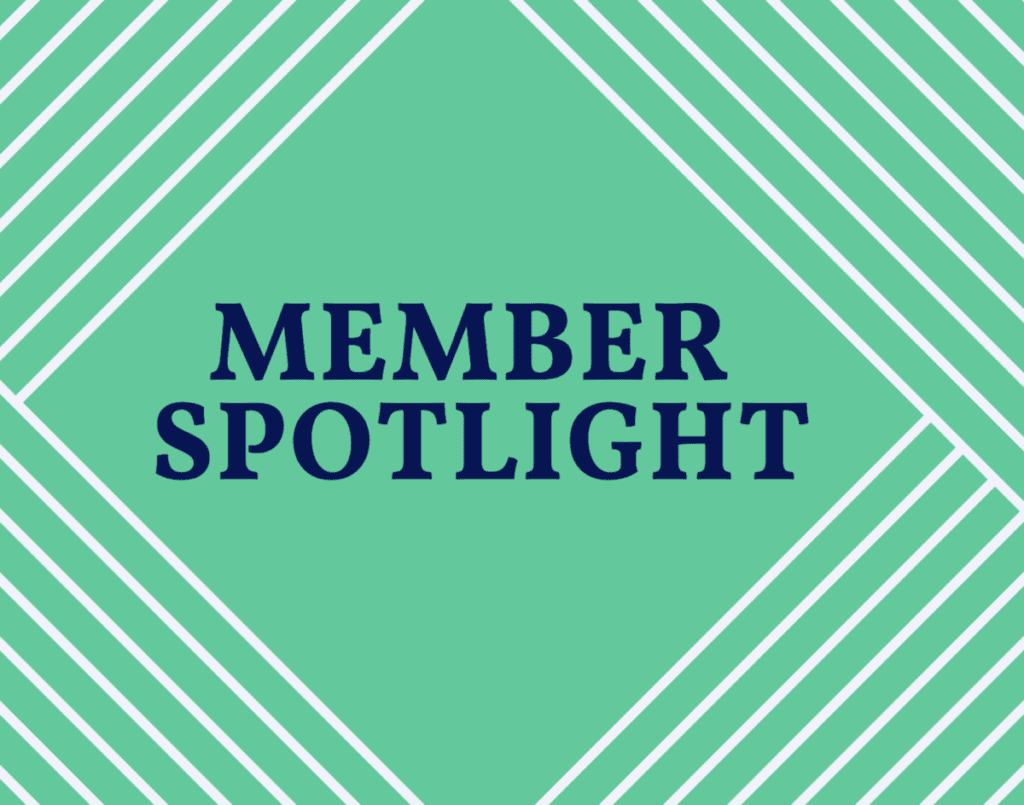 Our Member Spotlight this month is Laurie Phillips!
Laurie has had about eleven companies under her belt. While Laurie has blown us away with how she has applied CFFL and made it her own.
You can find her actively helping people on Landinvestors.com and the discord. Her best advice is to educate yourself, call the counties and escrow companies.
We're especially excited to announce that Laurie is going to be helping us lead the Land Academy Accountability Groups – so if you sign up you'll get to work pretty closely with her.
(Pro Tip: Laurie LOVES to fund your deals)
Listen to her talk with Steven and Jill about how she went full force in the land business and has grown her business dramatically HERE!
---
If you aren't a member yet – why not? We would love to have you "in our corner." Visit LandAcademy.com or HouseAcademy.com for more information on joining or to schedule a call with our team.
If you want an opportunity to attend one of the weekly closed member calls to get a taste of what we're about, send an email to support@landacademy.com