Get into the real estate business in less than 5 minutes and for free. Drop Everything and Do This Exercise.
Go to Craigslist.org for the metropolitan area of your state or nearby state. (Mine is Phoenix even though we live and work in Scottsdale.)
Open a free account and post some version of the sample advertisement I created below in the "Wanted Section."
You are now in the real estate business.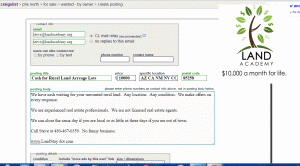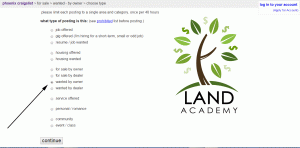 Here is the text if you want to copy (edit) and paste:
[We have cash waiting for your unwanted rural land.  Any location.  Any condition. We make offers on every response.
We can close the same day if you are local or as little as three days if you are out of town.
Call Steve at 480 467 0359.  No funny business.]
If you post an ad in one city you might a few calls, and if you post it in twenty cities you will get several calls. If you post it in hordes of locations, you will get calls every day.  Either way, it does not cost a dime.
While you are in Craigslist look around and search for similar postings. Try to key-word search for "acre" or something similar. You will not find any. Everyone is busy buying selling houses and making a mess.  You are smarter than that and that's why you are here.
Addendum: 8_28_2015
This is not a replacement for sending out a sound mailer. Nothing beats the undervalued and unwanted properties you will buy via a monthly mailer.  This is just a way to get some deal flow and practice your phone presence with real property sellers.
Many people have expressed these two concerns:
I'm new at this. I don't know what to say when a seller responds. Boy I really understand this point.  We have all been there.  You have to start somewhere. Tell yourself this:  "No matter how silly I appear, I'm never going to speak to or see this person ever again in my life.  This is just practice".
What do I do if someone calls me and they are ready to sell (give away) their property for $500.00? I don't know how to complete the deal…
Here is a direct quote from a person who completed this exercise recently under our direction:
Help! Your system works perfectly!
So I bought land [on Craigslist using your exercise], and posted it for sale thinking it would take at least a couple days. Within hours of listing on craigslist, I have a buyer. How do I sell it? I haven't even gotten the deed recorded in my name, and how would you suggest the transaction take place? Mail? Paypal?  Bit off more than I could chew!
Thank you for your time!
New Loyal Follower,
Richard Arz…
When you get to this point, call me and I (or one of my people) will help you. We partner deals with people all the time.  Here's a good story.
One of my students located a 320 acre parcel in New Mexico for $12,000.00 and he didn't have the cash to close. I bought it for him and before we got the recorded deed back from the county, my team sold it to one of my "A-List" contacts for $58,000.00 cash. We each got a check for $23,000.00. Now he is doing this full time and without our help.
You are Not Alone In Your Real Estate Ambition.