Happy Land – ings
Can you believe we're almost a quarter of the way into 2020? (Neither can we!)
We know that there is a lot going on in the world right now – and we're here to stand by you, work alongside you, and get through this together. We're excited for the future, and have all kinds of information for you going forward. Make sure you check out Steven's input on buying and selling in a recession and the live that Steven and Jill did on the topic.
We've also had some HUGE new releases lately including the long-awaited NeighborScoop and a LandPin site update. (more on each of those below)
Don't forget to check out our Facebook Groups (LAND) (HOUSES) to connect with like-minded investors, ask questions, create partnerships, and more!
As always, this newsletter is for you. Read it, bookmark it, share it, and feel free to let us know if you have any feedback, content suggestions, or questions!
---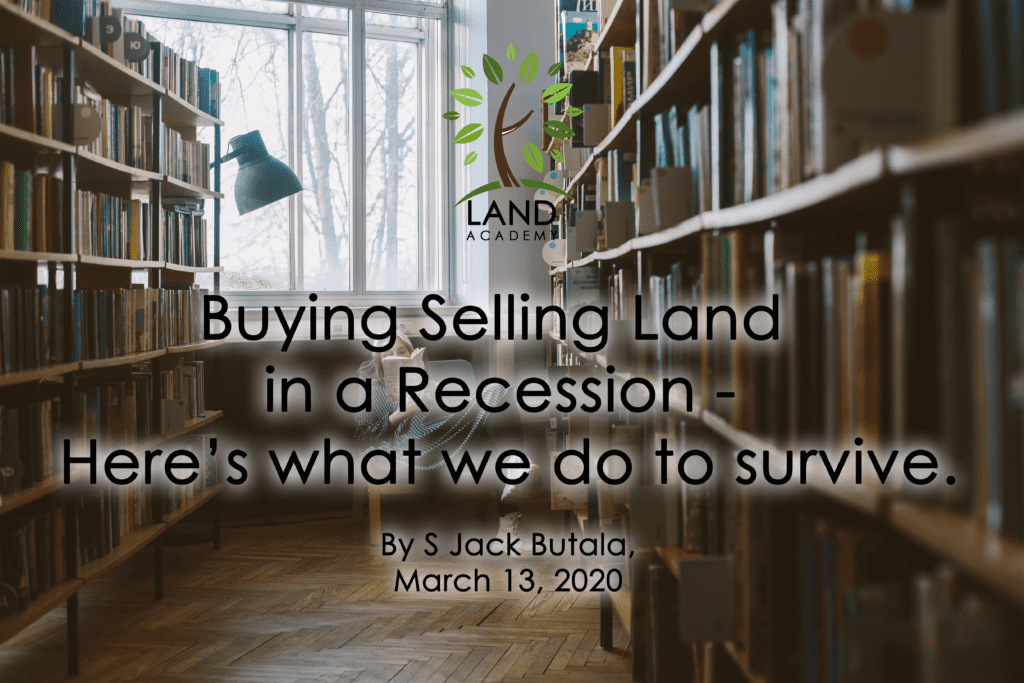 My organization has purchased and sold about 16,000 properties since the early 1990's, which makes us the unwillful survivors of two economic recessions and one depression. We are heading into the next one coming off the most prosperous economic environment our country has experienced in about 5 decades.
All recessions have a few things in common; they all start with a news media event which triggers consumer emotion, that emotion manifests itself in less spending (until another media campaign positively changes consumer perception), less emotional or confident consumers resume pent up spending, and finally the economic indicators tell us all that we are no longer in a recession.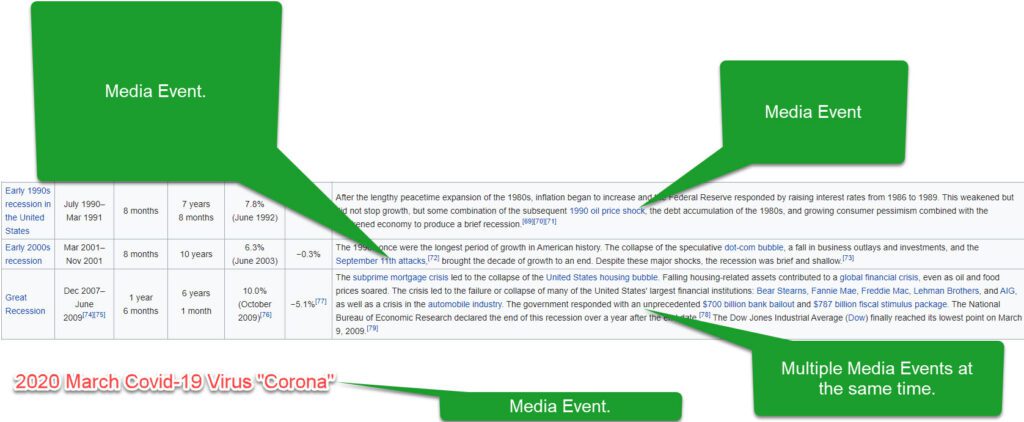 If I sound cynical, it's because I am.
These recessionary media events don't affect the VAST majority of us (about 95%). If they do, its usually in the form of job loss or, as a small business owner, loss of revenue. For example, in good times, the national unemployment rate is about 5% and at the worst of times about 10%. This means about 16.5M people become unemployed (330,000,000 * 5%) but $314.5M remain employed or 95% of the county.
Nobody wants job loss and less consumer spending. The fact is, all free market based economies are cyclical. My point here is (and with compassion) the real-life tragedy of a recession affects a small percentage of people and a large percent of people change their spending decisions based on emotion.
We are land investors. We buy property from willing sellers at prices below current value and sell the land at market prices or slightly below to willing buyers. We do this in all economic climates.
Here are questions I get every time we discuss this topic
⦁ Will the purchase price of land be affected by a recession? Yes, it will go down.
⦁ Will the sale price of land be affected by a recession? Yes, it will go down.
⦁ Will more land be available to buy (will more offer recipients sell their property)? Yes.
⦁ I have sold a lot of property on terms. Will my buyers who are making payments default more? Yes. 50% more will default on their payments.
⦁ Is it harder to sell land online like I usually do? No. Because you are buying it cheaper and now selling it cheaper. Your buyer base is bigger. People want cheap(er) property
⦁ Should I lower my prices on my next acquisition mailer? Yes. By as much as 25% lower than normal.
⦁ Should I change how and who I sell property to? No. But change your titles to reflect the even lower sales price relative to all the other property out there.
⦁ Should I add my land product types to my portfolio. I usually buy rural land. Should I but infill lots? Yes. Always add product types as an investor.
⦁ What should I change during a recession? Buy more land and use funding partners. People with money come out of the woodwork during a recession for bargains in real estate and commodities. If you have deals, they will buy. You need to put in extra effort to find them.
Remember this; US recessions are based on media events which cause emotion. No one I've known has ever said "I'm so proud of the decision I made yesterday when I was really really emotional." I wasn't thinking clearly and the next time I'm experiencing a ton of emotion, I'm going to make even bigger decisions and better ones about life events."
My final advice is you should not have any emotion when buying and selling real property in any economic climate. When prices are lower, buy more and ramp up your selling efforts to account for any perceived changes in the market. Present your property like "this is a once-in-a-life-time opportunity to buy for this price." And make sure you purchase it so inexpensively that you are truly offering a great opportunity for your buyer.
---
Check out Jill and Steven addressing how to survive/thrive in the current economic state, answer questions, and more!
If you have more questions – we're here to help! Post them in LandInvestors (it's free!) and our staff, Steven and Jill, and the collective community are always there to help. We're stronger together!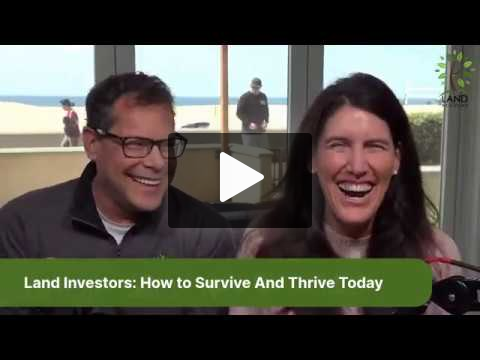 ---
The highly anticipated release of NeighborScoop is now HERE and the site is open to the public!
Created by the founders of Land Academy, House Academy, ParcelFact, and more, NeighborScoop provides details on all 150M+ Properties at your fingertips in a way you've never seen. This is a game-changer.
Here are some of the things you can now do with NeighborScoop –
The ability to draw a polygon ANYWHERE in the country and download 300+ property details INCLUDING owner name, address, and phone number.
Immediate owner phone numbers.
Full parcel map outline for all covered parcels – no more guessing at property boundaries!
The ability to click around and write down all neighbor information as well – including phone numbers.
FEMA flood map overlay.
KML to Google Earth Pro feature.
Multiple map views and layers.
PLUS – we're constantly adding new features!
Check it out –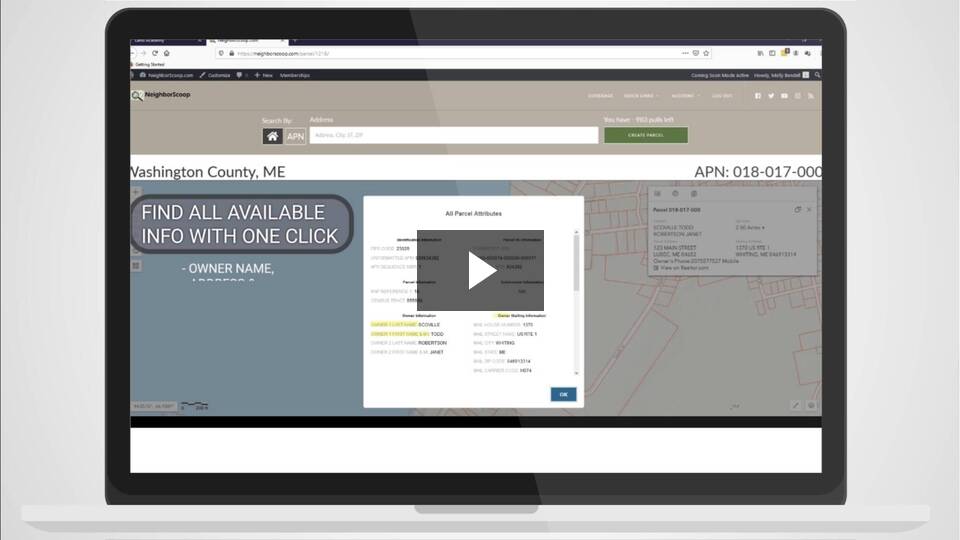 How does it work?
When you sign up, you get full access to all features. Monthly, you can "click around" to 1000 properties for free to get phone numbers and owner information, and you get 1000 property pulls.
Property reports (ie when you draw a polygon and download data) are charged at the rate of $0.10/property. (Same as RealQuest pricing – so you can use this as your data source! It's like pulling from RealQuest PLUS you get phone numbers now!)
Check out the User Guides and FAQ for more information.
---
We thought long and hard on what motivates YOU to get the ball rolling and staying consistent on getting your mail out – after all, YOU are our priority.
We decided to do something that no other Bulk Mailing company does and offer you all 10% Off your Offers2Owners orders EVERY Wednesday!
Here's the deal –
Use code O2ODAYS at the checkout.
Your order must be a minimum of 1500 mailers, no prepayment is permitted.
Stay Motivated and Consistent – we want you to succeed!
That's it!
---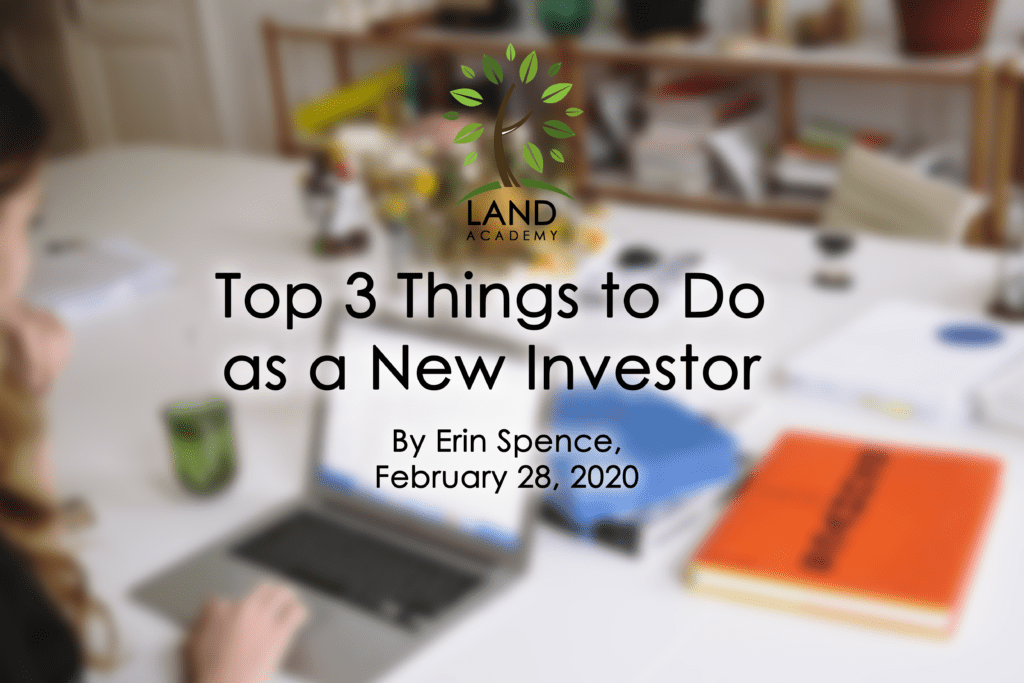 By Erin Spence
Look – we've been there. Getting started as a new investor is confusing, complicated, and can be downright overwhelming. There is so much information out there and figuring out where to start is tricky. We've put together our top three things to do as a new investor to get you started on the right path.
1. Get educated.
There are a lot of ways to get educated. You can learn on your own or go to someone established and learn from them. In the same fashion, you can spend no money or hundreds of thousands of dollars. There are plenty of valid ways, but we do think that there is a lot value to investing in your education in this scenario. Plenty of people out there have failed (and failed, and failed) and now know the right way to do this. You don't need to reinvent the wheel here – your time can be used much more valuably.
When you're getting started though, free resources can be your best friend. Our YouTube channel, podcasts, and LandInvestors are just a few examples of free resources that can get you well on your way.
2. Know that there is a lot more money out there than talent.
This is something that our co-founder, Steven Butala, loves to talk about – and it really is true. There is so much money out there, but people who can source deals (and do a good job at it) the way we do are special. If you're able to find good deals they will be funded, so don't let that hold you back. You don't need a lot of money to get started, and don't let that be a barrier of entry for you.
Also – if you're having trouble funding a good deal you can always take it to our group with Land Academy Deal Funding, LandTank, and HouseTank.
3. Commit to putting in the time and effort.
Probably the simplest yet hardest item for new investors – you really do need to put in the time to grow your business, educated yourself, and become a pro. For some people this is just an extra hour here and there, or it might mean getting up at seven am and home at seven pm so you can do a few hours before and after work each day. It's different for everyone, but the key is consistency and committing to something you can stick to. So have that talk with your family, come up with the schedule that works best for you – and get ready to be a full-blown investor!
---
Land Academy Enrollment is Officially CLOSED
(but you can still get involved!)
You heard it here first!
We have successfully created an impressive group of extremely intelligent investors and we are together growing our businesses. We are all funding other members' deals, working together to take down large transactions, and creating sub-groups to specialize in other profitable niches – and we capped it at 500.
What does that mean to you?
We have opened up a waitlist for anyone eager to join. As spots open up (people do move on at times) we will first make the spots available to the waitlist.
Join the waitlist HERE.
Other ways to get involved –
Join LandInvestors.com, our free online forum.
Request an invite to join one of our closed member calls.
Join our Facebook Group.
If you have questions about membership, you can schedule a call with us or email support@landacademy.com for more information.
---
Member Announcements
Introducing, the NEW and improved, LandPin.com!
You should all have received an email from support@landacademy.com by now, with more information on setting up your new account login for LandPin.com. You'll need a special password to access the Registration page, which can be found in that email, as well as in your Member Guide. Once logged in on LandPin, you'll find helpful User Guides under the "Account" item in the top menu. These will show you how to navigate the site, build your Seller Profile, and create new properties. We hope you enjoy the improved functionality and design, and see the benefits in your sales. Happy Selling!
Consulting
You can now schedule 30 min consulting calls with our very own moderator – Kevin Farrell!
You can schedule a 30 min call with Kevin by going to Land Academy under "tools" or looking on the right-hand side of LandInvestors (look for the box like the one to the right here!)
You can pick Kevin's brain – he's here for anything from deal reviews to where to start with your land business. We love Kevin, and we're sure you will too.
Just click the link and schedule your call today!
Infill Reports
A great way to take the mystery out of land use potential! Within a week get a full and simple to follow report on the buildability, zoning, utilities, etc.Also, if the property is not buildable the report will tell you what needs to be done to make the land suitable to build on. Besides finding out the land-use you will also receive information about liens and marketable title.
Check it out HERE
Watch Steven talk about the importance of these reports. HERE
---
Marketing Tips
Tips for hiring a Photographer/Videographer
As more properties become available online, you are going to want your property to stand out from the rest. Besides having the lowest priced property in a zip code or county, you can stand out by the type of media you have posted. Yes, you can still sell properties with screenshots. But by having videos and high-quality photos, you can give your property so much more value and create a story.
Depending on the task and location, a photographer, videographer or drone photographer/videographer can cost around $150-$1,000. You can find photographers/videographers through Craigslist, Facebook groups, Indeed, LinkedIn, Yelp and etc. Before hiring, check the photographer's/videographer's past work, ask them for a website, YouTube channel or social media accounts. Some other costs that you will want to keep in mind when hiring a photographer/videographer, are traveling costs, editing cost, music cost and etc. You will also want to be clear with instructions on what and how you want your property shot or recorded. You can also give examples of other property photos and videos. You should ask them to shoot any thing that can highlight your property for example: sunsets, road access, animals, trees, background view of mountains and etc.
Note: Always ask for royalty free/commercial free content. Example, if a videographer is going to edit a video and add music, it is best to have royalty free/commercial free music. If you run an ad with copyright music and you don't have the proper approval, it can be flagged and taken down by Facebook or YouTube.
– Marketing Team
---
---
This month's question came from Leonard over on LandInvestors.
He asks –
How do you find buyers for these cheaper properties? I have listed them on Facebook Marketplace and I've had a lot of interests of potential buyers, which seem to be tire kickers. How do you sell these?
Check out Steven and Jill's answer HERE.
The question and our Moderator Kevin answers HERE.
From the state that Land Academy Started, JT Olmstead is our Spot Light this month!
Going on his second year with Land Academy, JT has been so involved with us from Land Investors to the member calls. Watch Steven pick his brain and find out how JT was able to quit his job after one year with Land Academy. HERE.
Listen to JT talk about the freedom of taking month-long trips.
---
Check out our Favorite YouTube Video in February!
Here's a sneak peek into one of our closed member calls where Steven & Jill will cover Counter Offers & More!
---
Watch and listen to our podcast!
We currently have TWO podcasts so you can catch us every week day. Our land podcast airs Mondays, Wednesdays, and Fridays. Our housing podcast airs Tuesdays and Thursdays. While they're separate podcasts, there is a TON of overlap on information so make sure you check them both out!
How to Buy Land for Less Than It's Worth (LA 1152)
How to Talk with Potential Sellers (HA 1171)
---
If you aren't a member yet – why not? We would love to have you "in our corner." Visit LandAcademy.com for more information on joining or to schedule a call with our team.
If you want an opportunity to attend one of the weekly closed member calls to get a taste of what we're about, send an email to support@landacademy.com
---