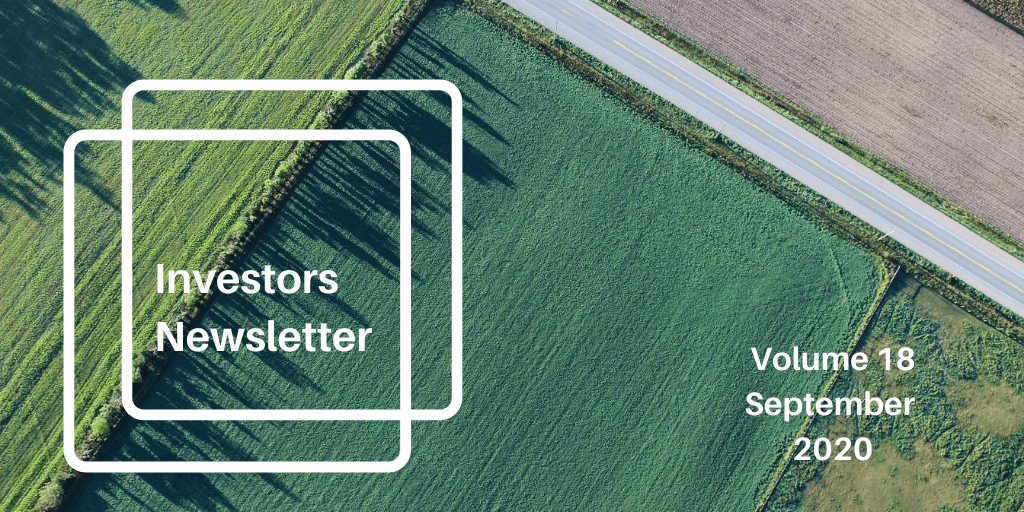 It's September Already?
If you're like us, the month change came as a HUGE reminder that we're quickly nearing 2021! Now is a great time to reflect on where you are in your year, reassess your goals, and most importantly – send out mail!
Don't forget that this newsletter is yours. Read it, bookmark it, share it (please, share it!) and feel free to let us know if you have any feedback, content suggestions, or questions!
Check out our Facebook Groups (LAND) (HOUSES) to connect with like-minded investors, ask questions, create partnerships, and more!
---
Our very own Jill DeWit is going live on September 23rd, and you definitely don't want to miss this one!
Designed for newbies and experienced investors alike, Jill will be showing exactly how she reviews a deal in five minutes or less, updating you on the deals that she's doing, holding a special Q&A session, and more!
We can't wait to "see" you there!
---
Saturday morning my family scattered after breakfast to do their own thing; La Crosse tournament, shopping therapy etc. With the house to myself, I settled into my life long unintentional hobby/pastime; online real estate data analysis.
It always starts the same way and sucks me in; an email notification from realtor.com and or redfin.com about new listings in Los Angeles. I take the bait knowing what my life will be like for the next 5+ hours.After scrolling around Los Angeles, I find what I'm looking for. The perfect zip code.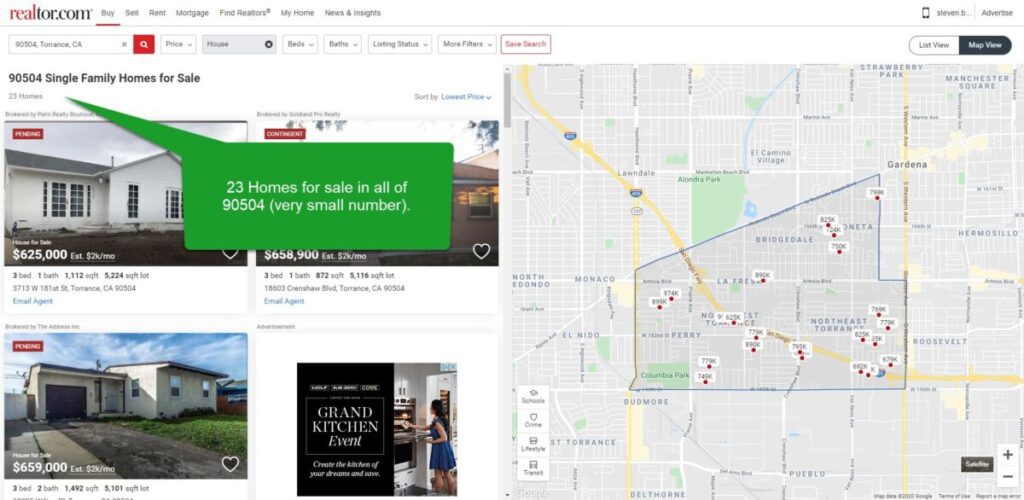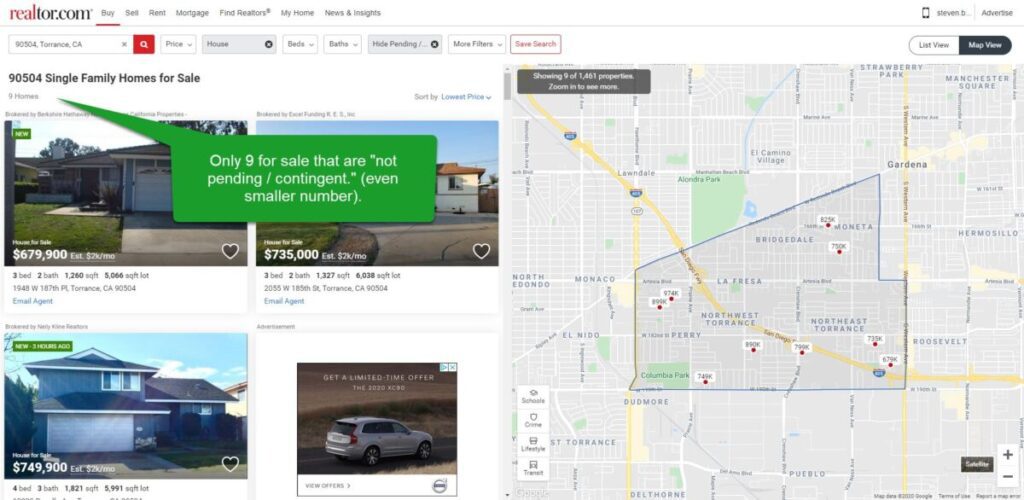 Let's dig deeper…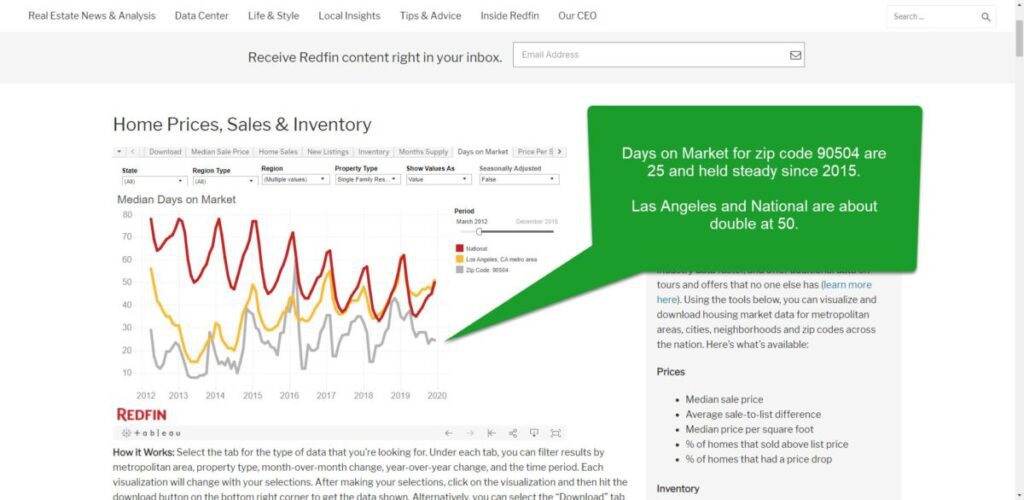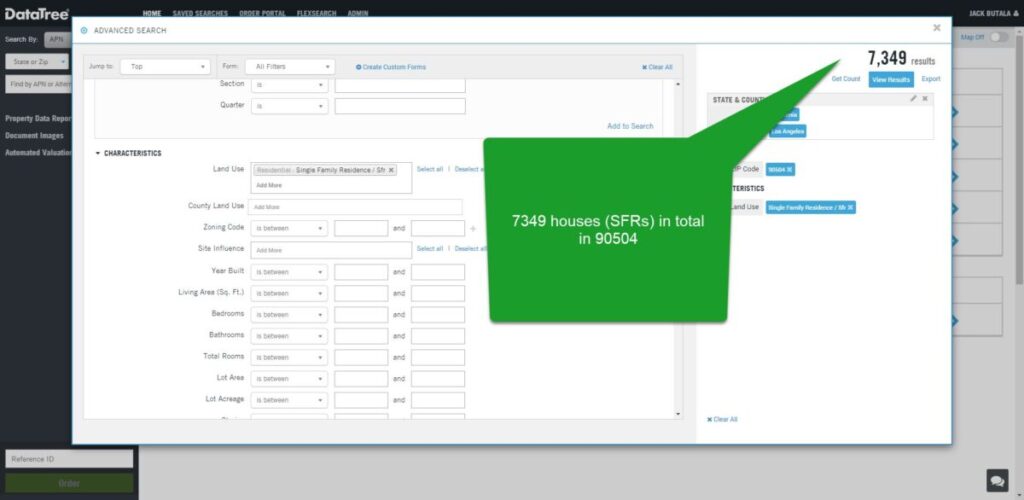 .12% of all the SFRs in the zip code are listed for sale in the MLS (9 active listings out of a universe of 7349 SFRs is .12%). A fantastically low number.
How does this zip code stack up against the rest of Los Angeles County? Below are direct and free downloads from RedFin Data compiled in MS Excel.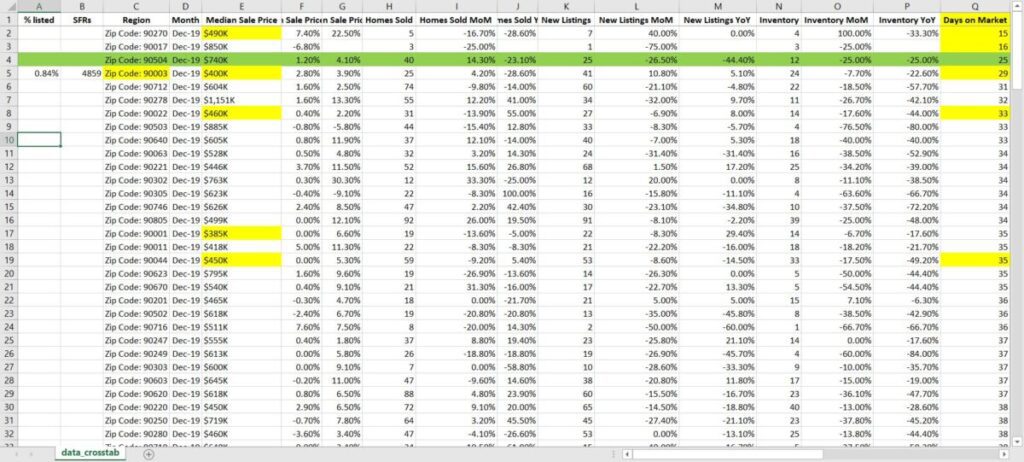 My instincts were correct.
Column E says $740K average sale price which is great because its expensive enough for me to mail blind offers out to all 5,300+ homeowners at $150K less than current market value.
Columns F and G say the median sale price is larger than the list-price so some bidding is going on over the list price indicating high demand.
Columns H, I, and J say that there are a very high number of properties sold each month indicating a hot market or again, high sales demand.
Columns K, L, M, N, O, and P tell me there are less listings each month than sold listings indicating high demand again and low supply.
Column Q is the nail in the coffin; Days on Market below 30 indicating high demand.This entire spreadsheet pits each LA zip code against others to see which areas perform as the best "automatic sales candidates."
This leaves me with exactly one task as an investor; find an underpriced SFR using the mail in this identified zip code by simply sending every owner in the zip an appropriately priced offer.
History will repeat itself and for every 1,800 offers sent, one property will get purchased for the price I offer (1 or 2 houses purchased for 5,000 offers sent to 90504).
We usually net about $75K per house wholesale.
---
A Message From the Offers2Owners Team
Last Month Numbers:
Offers Mailed: 425,968
Properties Purchased: 1046+
Data Pulled: 353,575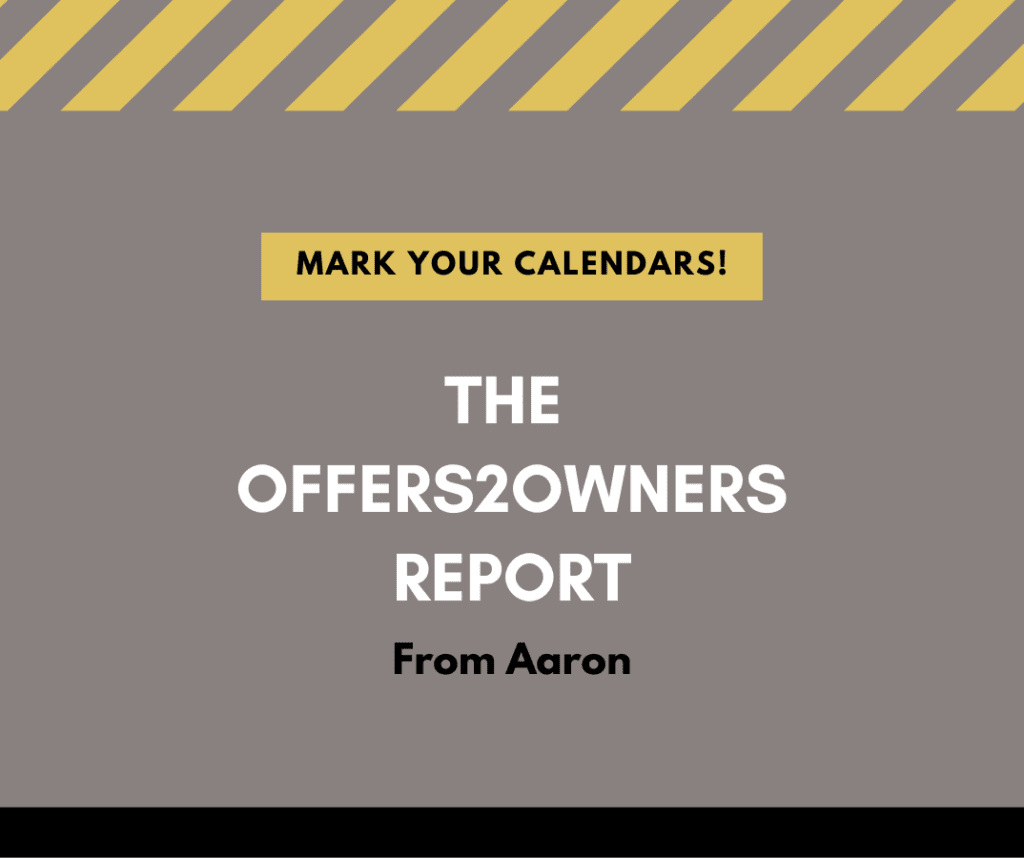 ---
Offers2Owners has had another record breaking month! We've sent over 400,000 pieces of mail last month!
All of our members are killing it!
The O2O Team and Steven and Jill all want you to know how important it is to keep a consistent mail flow every month leads to consistent income.
Setting a number of mailers you want to send every month is the first step.
Updates from O2O:
Docs Ready order Minimum:
We now allow all members to place your orders with a minimum of 50 mailers instead of 100!
Allowing Prepayment On Mailers:
If your files aren't ready NO problem we now allow you to Prepay for your mailers and upload your files at a later time.
Schedule your Mailers:
Now is the time, We now accept Scheduled Mailers! Just add a note to your order and we'll handle the rest.
Brand New eBook:
Offers2Owners has a brand new eBook! Download it today for the latest and greatest on direct mail! (There also might be some discount surprises there for you)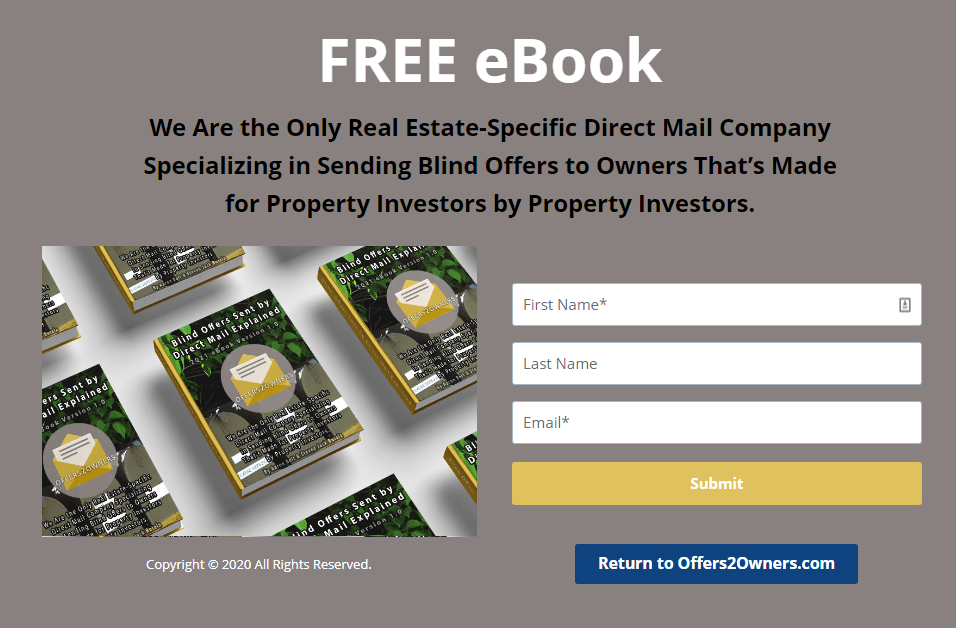 ---
Want to win a free Land Academy program?!
We're doing one last drawing, and this is a big one!
The winner gets all of the following –
Free Land Academy Cash Flow from Land Program (our original program!)
Land Academy 1.0; Rural Vacant Land
Land Academy 2.0; Infill Lots
Your first month of membership for $1!*
FOR THE FIRST TIME EVER – ONE MONTH FREE OF NEIGHBORSCOOP
Here are the details –
This contest is open to all, and runs between now and September 22nd at 5 pm PT. Winner will be chosen in a random drawing.
To win, you need to complete each of the following steps.
Leave a comment on this video telling us what your favorite thing is that you've learned about Land Academy or investing in land so far.
(CLICK HERE FOR VIDEO) NOTE: All steps take place on the same video.
Like this video.
Share this video on your Facebook profile, Facebook page, or in a Facebook group.
Send an email to support@landacademy.com with your full name and phone number and let us know that you completed all of the steps!
See you on Wednesday September 23rd at 3:00 pm PT to announce the winner LIVE on Facebook. Jill will be holding the drawing, showing you how she reviews an acquisition in five minutes or less, doing a Q&A, and more!
See you on Wednesday July 22nd to announce the winner LIVE (+ a ton of other surprises!)
*(Following months will be billed at the normal amount)
---
Podcast Corner
---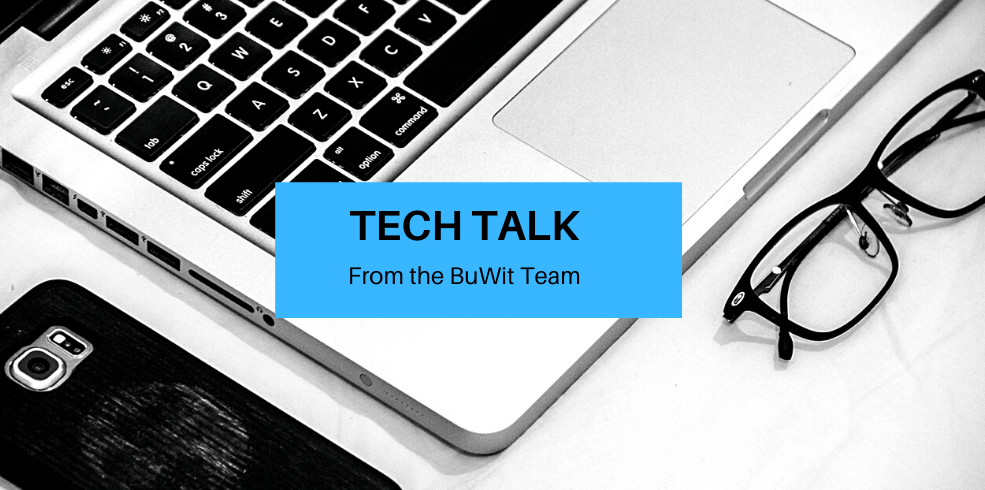 We have been up to a LOT lately!
Behind the scenes, our team is hard at work bringing you brand new hosting and site updates across the board. As soon as our migration finishes in the next couple of days, you'll notice increased speed and other optimizations instantly throughout all of our sites.
Keep an eye on NeighborScoop and ParcelFact in particular for increased functionality and other updates – we're just as excited as you are to see them!
We know there have been some pesky bugs popping up occasionally – those will all be fixed as well.
We appreciate your patience as we continue to grow and create the best industry tools for you!
---
Member Updates
Starting this month lookout for new content and tools!
Steven and Jill working diligently to provide us all with new information, in-depth training, and partnering with the best new tools on the internet, for all types of investors.
Whether you are an old or new member, focused on land or houses we got you covered with more resources!
Continue to Get Your Questions Answered!
Schedule 30 min consulting calls with our very own Moderator Kevin Farrell! Members can schedule a 30 min call with Kevin by going to LandAcademy under tools or looking on the right-hand side of LandInvestors.
For just a $100 you can pick Kevin's brain, from deal reviews to where to start with your land business.
Just click the link below and schedule your call today!
---
Have Suggestions For Membership?
Is there a site or tool you use that you think we should add?
Want us to develop a certain type of tool?
Is there something missing from our current sites that you want added?
Have specific content ideas?
We're all ears! We're always adding to membership and improving on what we always have, and we know that you have great ideas!
You can always email us at support@landacademy.com with any suggestions or ideas.
---
Marketing Tips
How to Get Engagement on Social Media
This general truth of life applies to social media. The algorithms for engagement on Facebook and Instagram can be tricky – frustrating, even. There are a variety of ways to achieve the best possible outcome, such as posting at a certain time of day or using certain hashtags.
One way that is less talked about, however, is engaging with other people's posts. Find a few different real estate and land business pages to follow, if you don't follow any already, and start engaging with their posts. You have to be authentic in your approach. For example, if a post catches your eye – let's say a post that explains a certain topic or gives advice on a particular scenario – "like" it and leave a comment that furthers the conversation that the post is starting; you can either ask a question or provide your own insight on the subject.
By doing this, not only are you supporting someone else with your engagement, you're putting your name out there on someone else's page for their audience to see, as well.
It's easy to overlook this method, especially when using scheduling platforms to post content, but it could help your own engagement to engage with others on social media. Take 5-10 minutes out of your day to scroll through your timeline or the explore page, like some posts, leave some meaningful comments (not just random emojis) and make some genuine connections. What goes around, comes around.
– Marketing Team
---
---
This month's question came from Nickover on LandInvestors.
I'm about to call the county for a couple of properties I have under contract to purchase. What things should I be asking the county when I call?
Check out Steven and Jill's answer HERE.
Check out Nick's question HERE. Make sure you read the answers from our community – we love to hear their valuable input!
Our Member Spotlight this month goes to one of our all-star members Kevin Farell!
Kevin joined us back in October 2016 part-time whiling running a pest control business. Two years later he decided to go into land full time and sell his business and hasn't looked back since. Besides being a full-time investor you can find Kevin on Land Investors as a moderator or as a consultant on Land Academy.
Watch Kevin talk about how he started and became such a successful investor and a plethora of information HERE.
---
If you aren't a member yet – why not? We would love to have you "in our corner." Visit LandAcademy.com for more information on joining or to schedule a call with our team.
If you want an opportunity to attend one of the weekly closed member calls to get a taste of what we're about, send an email to support@landacademy.com