Outsourcing & Hiring to Scale Your Land Business
If you find yourself frequently considering hiring help – you should. If you often ask yourself, "Am I there yet?" – you are.
By Jill DeWit
May 1, 2022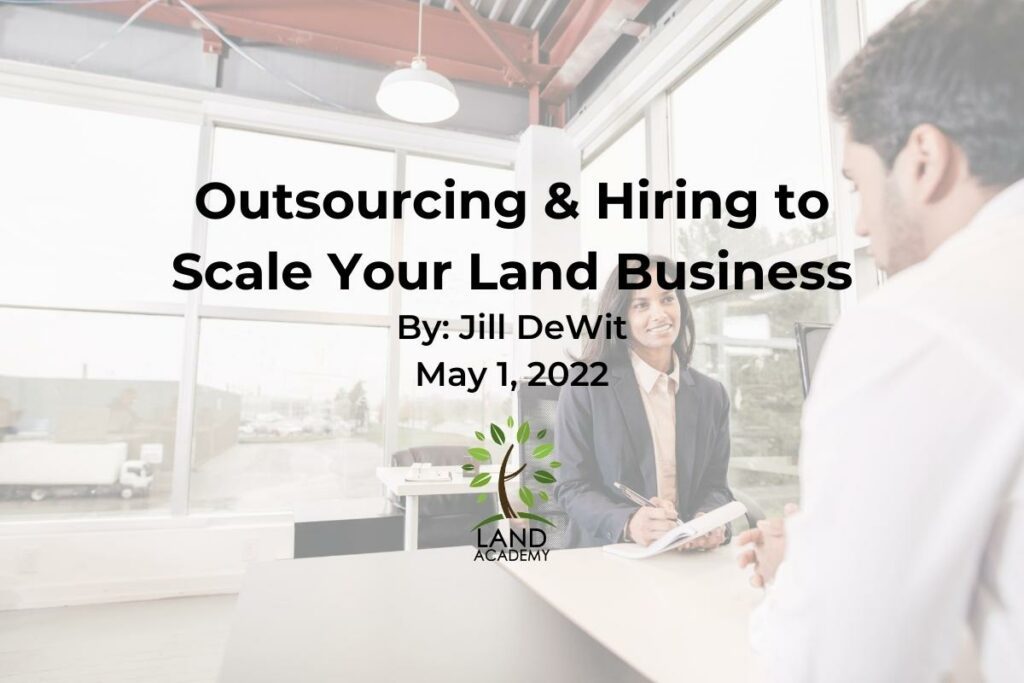 If you find yourself frequently considering hiring help – you should. If you often ask yourself, "Am I there yet?" – you are. If you can no longer supply the demands of your business or you're starting to feel overwhelmed and overworked, it's time to outsource and hire – you're now past due.
As if quitting your nine to five (and the steady paycheck that went with it) wasn't terrifying enough, you're now contemplating hiring your first employee and surrendering control of some part(s) of your business through outsourcing. Add that to being responsible for the livelihood of another person and you'll soon see why, for some, outsourcing and hiring can be challenging.
Jack and I teach a course called Career Path (https://landacademy.com/careerpath) and we find that each new class sort of, "naturally" adopts a theme. The Career Path 02 group was preoccupied with pricing. Career Path 03 was focused on scaling up.
Too often, I hear members say, "I wish I would have done this a year ago". What are you waiting for? Stop holding yourself back. You cannot scale your business without outsourcing and hiring, this is a critical step if you want to level up. This business is unique in that it is extremely scalable and allows for a lot of control, use that to your benefit.
Start with a plan – What task(s) will you outsource? What is the cost? How much time is needed to complete the task? How many deals do you need to cover the new cost?
Don't overthink this – often you are what is holding you back
Consider the "3 A's" – (not to be confused with the "6 A's"). Act, Adjust and Add.
Act – act on it. Put your plan in place and begin outsourcing and/or hiring your fist employee.
Adjust – adjust that person as needed to meet your needs.
Add – add tasks when ready.
There are a few things that need to be outsourced for you to really succeed. Jack and I have put together several tools to make this easier for you. The newest product is Concierge Data. Our team of experts will pull and scrub your data to ensure you are sending out the perfect mailer. This particular task can be very time consuming if you do it yourself. When our team has finished, all you have to do is enter your offering percentage and place your order. Choosing to outsource will allow more time for you to focus on the other aspects of your business. If you are interested in this service, you can find more information at https://www.offers2owners.com/shop/concierge-data/ .
Do the math. Stop just considering outsourcing and instead, act on it. Concierge Data is an easy place to start.
Remember, we've got your back and if you follow our business model, we won't let you fail.