How to Buy & Sell Land (for Zero Down) & Recession Proof your Land Business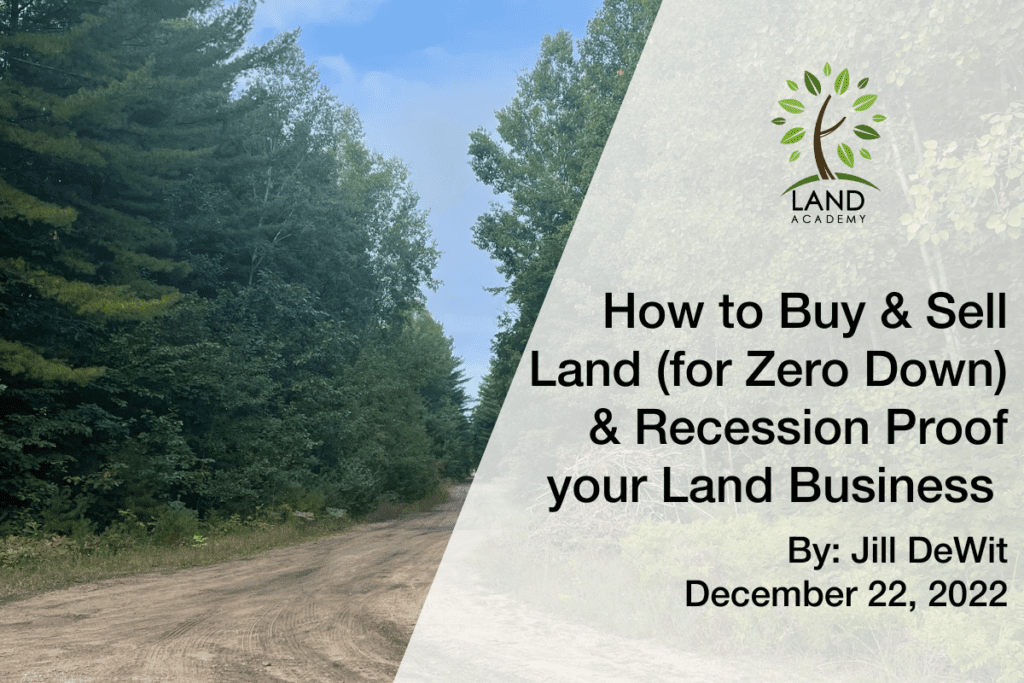 I'm so excited about our current end of year promo at Land Academy and wanted to fill you in on some of the information I recently shared during a free live training that I offered on buying and selling land for zero down and how to recession proof your land business. I'm going to summarize the key points for you but if you missed the live and would like to catch the replay, you can do so here https://live.landacademy.com/replay
I want to take the "mystery" out of making money by flipping land without making any improvements to the property and explain our Land Academy membership, how to access to all the tools needed to do this and why we are the experts at buying and selling land and educating others. My partner, Steven "Jack" Butala and I started our land company in 1999 and in 2015 we created Land Academy. Since then, we've educated and coached hundreds of individuals and have created a community of elite members.
Sure, there are many moving parts – but here are the 10 basic steps we teach;
1. Select your acquisition criteria (ex. buy 2-10 acres for $30k, sell for $75k+)
2. Start "trolling" the country for areas that show completed sales (ex. TX via Zillow)
3. Run a Red/Yellow/Green zip code test to identify the hot areas within county(s)
4. Collect the BEST, fastest, customizable ownership data available (at Land Academy, we use DataTree and nationwide access is included in our membership)
5. Scrub and price your offers
6. Send mail (details in Land Academy OR use our Concierge Data Services)
7. Field seller calls and signed offers returned via mail
8. Pick the best ones and…
9. LET SOMEONE ELSE BE THE BANK (aka your funding partner) to 100% fund the deal
10. Post for sale yourself or use a land focused agent/broker. You'll then split the profit however you set up with your funding partner (Example: 50-50 of net proceeds?). Then, simply repeat and don't stop sending mail/offers!
To recession proof your land business you need to: Only buy GREAT property and pay cash (or use a funding partner). Really dig in on your due diligence, consult with local agents for BPO/local experience. Use your own money or funding partner to pay CASH for all deals, which takes away the stress if it takes a little time to sell and be unbelievably picky to make sure you can't lose; I turn down more than 75% of the deals I review each week.
This is not our first recession, in fact, my partner S. Jack Butala has been through three. Unfortunately, we watched many of our sweet competitors in the land space disappear in 2009-2010. We're confident in our methods and have the experience needed to be successful and we want to help and guide you too!
You don't have to do this alone and spend 10+ years trying to figure it out for yourself and "hope" to catch up to our level. Simply join Land Academy today and we will ALL help you. #thiscommunityrocks
Don't miss this opportunity, if you join Land Academy between now and December 31, 2022, you will receive, 50% off our entire Land Education Program, which includes four modules; 2015 Cash Flow from Land (The Original), 2018 Land Academy 1.0 – Rural Vacant Land, 2019 Land Academy 2.0 – Infill Lots and 2022 Land Academy 3.0 – Catching Up with Land Academy. As well as – deed templates, mailer templates, Jack's equity planner, Red/Yellow/Green Zip code analyzer, and more. The total value of this bundle is over $30k and for a limited time you can get all the access for only $1200 plus our $295 monthly membership fee and instantly receive all the tools and 24/7 support you need to start making money.
Visit our checkout page at https://hh439.infusionsoft.app/app/orderForms/Silver-Membership?cookieUUID=4d0a435e-55e6-4f87-a5b3-d7df7b69ae45 and use code: HALFOFF before it's too late!
When you join Land Academy, you get our whole business model, access to all the tools used by the pros and the ongoing support you need to be successful. Our monthly membership includes: 24/7 support to complete deals like us, plus discounted mail, weekly member calls, access to our closed member community, nationwide seller data access, and more!
Questions? Contact our support team at support@landacademy.com