Why Land Ownership Is Ideal Against 2023 Inflation 
Why Land Ownership Is Ideal Against 2023 Inflation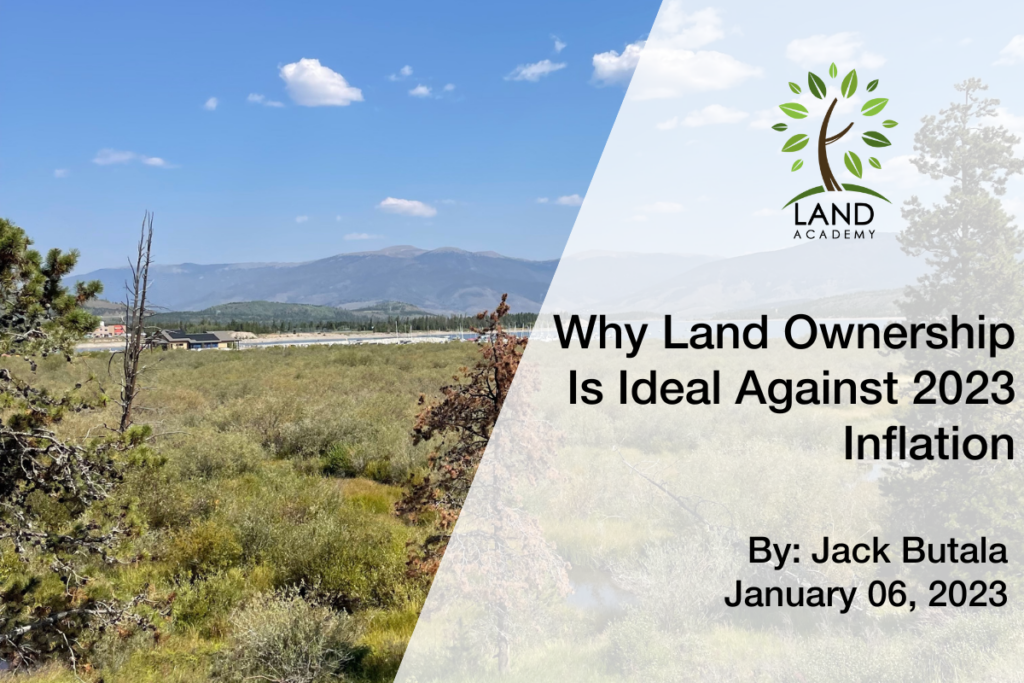 By: Jack Butala
January 06, 2023
"Land is a finite, stable, and tangible investment asset. It can't wear down overnight or become valueless. Land can serve as an effective hedge against inflation with its potential to hold value and generate higher returns".
There really is no better feeling than owning a bunch of land, I sleep well at night knowing I have that security. Especially property that I know was inexpensive and is paid for, no financial obligations or debt. Even if I feel like it isn't selling fast enough, I'm still in a good spot.
We've gotten a lot of questions recently about 2023's inflation rate and how we are preparing or changing the way we do business. Truthfully, in our world, I'm getting a little excited about what is to come. I'm watching better deals happen than I did six months ago, in better places, and they are currently selling just fine.
Land ownership really is ideal against inflation, let's say you bought a piece of property in 2022 for $100k and in 2023 the price of everything is going up, cars, precious metals, stock in the stock market, etc. All these commodities are subject to inflation, but your piece of land is subject to none of that, apart from the tax bill going up, which is relatively insignificant in most cases.
Even better, all you have to do is buy and sell. I think because a lot of people come to us from other real estate niches, they're looking for something else to do, something to improve, and it really isn't necessary. We prefer to buy a nice piece of property with nothing on it, sell it as-is, collect the money and do it all over again and again.
I think the source of confusion is that in traditional real estate, there's two components: the balance sheet and the income statement, (for example, you own an apartment building and also collect monthly rent from tenants, you've got income coming in and equity being built simultaneously), with land it's a single component scenario, it's just a balance sheet that you essentially turn into an income statement, and I think a lot of people have a hard time digesting that. In this business, they become one because you are constantly buying and selling land. Your balance sheet is a combination of cash and land that just keeps getting bigger and bigger and bigger.
So, what does it cost to own land? Nothing. Subject to all this inflationary nonsense that's going around, it's a great investment and in the greatest of times, you're still buying land at 20-30% of its actual retail value.
It's smart to consider which assets are the best hedge against inflation, and if you're currently investing in land, you've already found the wisest answer.
Sources: https://apxnproperty.com/hedge-against-inflation/#:~:text=inflation%20hedge%20portfolio%3A-,Land%20Is%20a%20Tangible%20Asset,value%20and%20generate%20higher%20returns