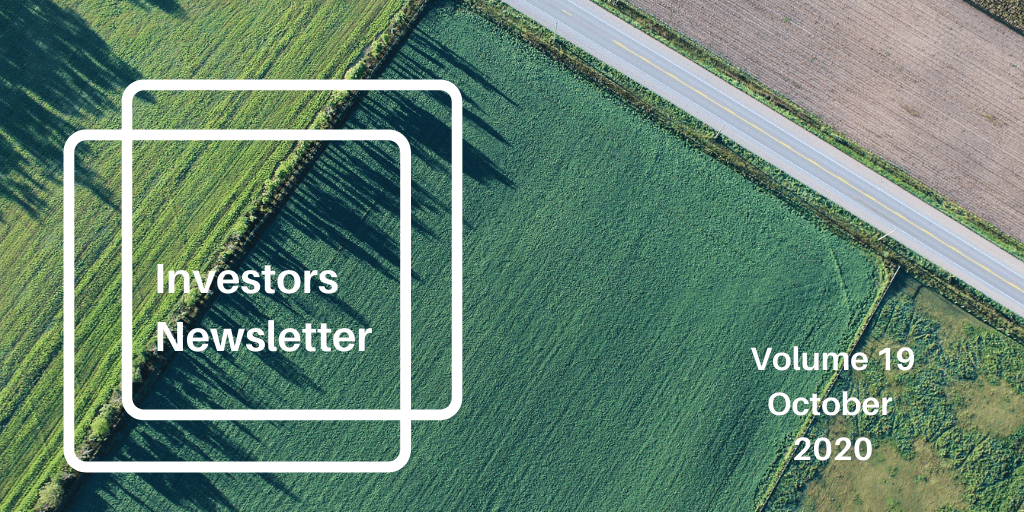 Happy LAND-ings!
We're making a big push to finish this year strong – and hope you are too! In addition to the deals (and deals and deals) that we have going on, we've also been busy updating our sites (namely NeighborScoop and ParcelFact), finding new ways to bring you the information and content that you know and love, and working on some top-secret projects that we can't wait to share with you. (*cough* continuing education *cough* accountability groups)
Don't forget to check out our Facebook Groups (LAND) (HOUSES) to ask questions, create partnerships, and more! LandInvestors is another great stop for anyone looking to connect with like-minded investors and more.
As always, this newsletter is for you. Read it, bookmark it, share it, and feel free to let us know if you have any feedback, content suggestions, or questions!
---
Our very own Jill DeWit will be going LIVE this Monday with a very special presentation.
Date: Monday, October 19th
Time: 3 pm PST/6 pm EST
Where: Facebook Live and YouTube Live
Topics: How to Confidently Change Your Offer Price, Q&A, and special announcements for members and non-members alike about deals and upcoming contests!
See you there, and remember to bring your questions! Jill will wrap up a Q&A and would love to answer anything about land, houses, investing, our programs – or anything else you can come up with!
---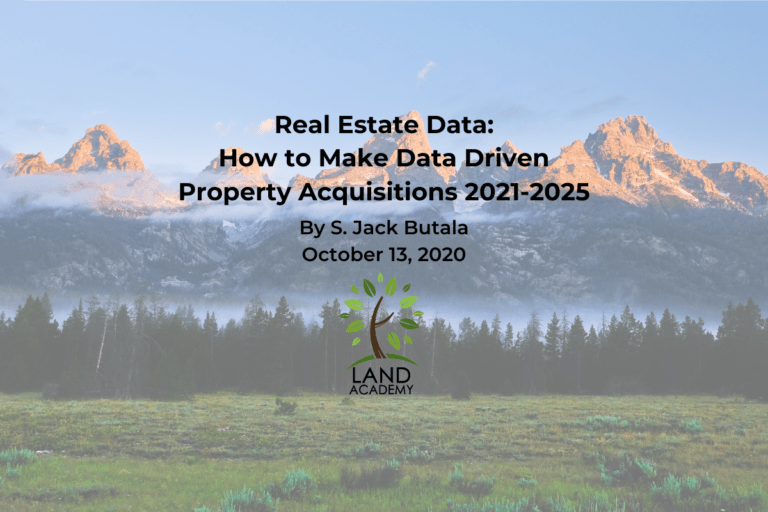 The real estate dataset for the US is finite at about $150M properties. Three data providers are in a race to capture the most robust dataset for each property in this dataset; CoreLogic, First American, and Black Knight. Each have specializations and methods of delivery that are industry-specific they are Oil and Gas, Title Insurance, and Mortgage industries, respectively.
Black Knight has recently released a custom platform named Rapid Analytics Platform or RAP for short. In their words this is its definition: it's a cloud-based enterprise data and analytics solution that transforms the way companies work leverage data and enable decision science strategies in their workflow.
Within a single platform, users can immediately source data, execute queries, create advanced analytics and train machine-learning models. This helps organizations gain valuable insights to drive business growth, effectively manage risk, and respond quickly to the dynamics of an evolving market.
There are hundreds and hundreds of columns of data associated with any given property in the county. These data sets can be categorized based on what makes since to an investor.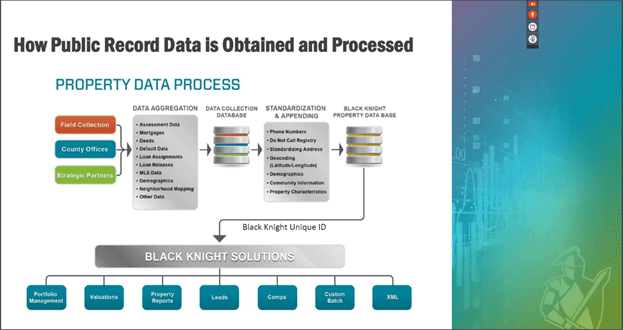 Here is what it can do for property investors like us; after reviewing the entire 150M unit dataset, I would like to see properties with no improvement value (land) in zip codes where the spread between average completed sale value and the "for sale" values is largest. This tells me where to send out blind offers. Then I would like to see, within those geographic parameters, what acreage range is the widest. This tells me which owners or to whom to send blind offers. After scrubbing down to this dataset, I would like to know what the actual spread prices are. This tells me for how much to send each offer (how to price the offers).
At present, we are building a custom cloud based application with Black Knight to automate this process for buying land and many other variations of this application and new data becomes available. RAP does an amazing job of putting this information into an automatically updated dashboard format which will tell us where to invest based on actual "constantly updated" activity in the market. Here are a couple simple examples of real-time data for a different client where forbearance and delinquency activity is their goal:
The next few years the relationship between real estate data and decision making will bring us into an age on par with the stock market. Nearly every aspect of the data to help automate decision making will exist or does now exist. It's our job to see the data in a way that makes sense to us individually and to act on what that data tells us allowing us to create equity through acquisition and sale of real property.
---
A Message From the Offers2Owners Team
Last Month Numbers:
Offers Mailed: 441,127
Properties Purchased: 1046+
Data Pulled: 353,575
We sent over 1.1 million letters this Summer.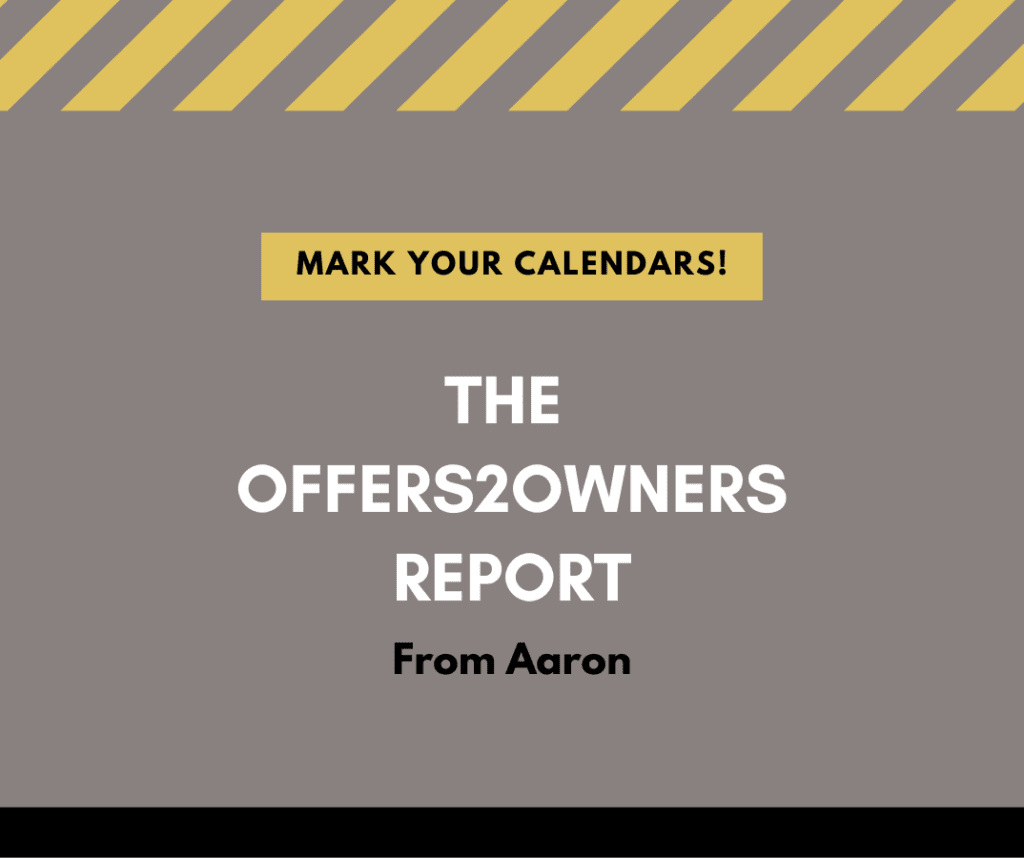 ---
Updates from O2O:
October Surprises:
We have a SPOOKY good special surprise heading your way! Keep an eye on your email next week for more details.
Allowing Prepayment On Mailers:
If your files aren't ready – NO problem! We now allow you to PREPAY for your mailers and upload your files at a later time.
Schedule your Mailers:
Now is the time, We now accept Scheduled Mailers! Just add a note to your order and we'll handle the rest.
---
Offers2Owners has had another record breaking month! We've sent over 440,000 pieces of mail last month!
All of our members are killing it!
The O2O Team and Steven and Jill all want you to know how important it is to keep a consistent mail flow every month leads to consistent income.
Setting a number of mailers you want to send every month is the first step.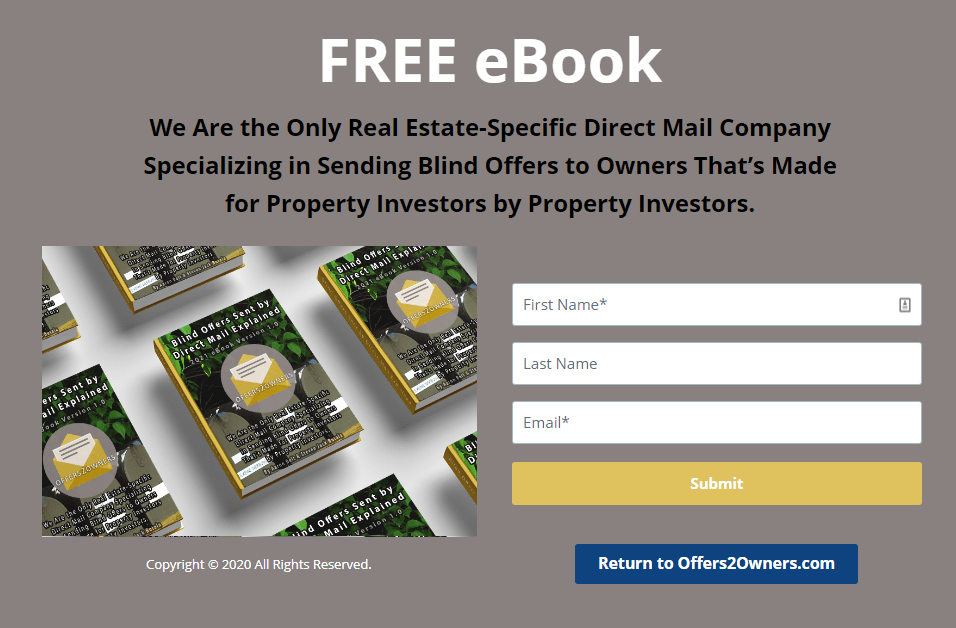 ---
Podcast Corner
---
Member Updates
Getting a credit card processor at the best deal possible just got easier with the new referral page form Heartland.
Less expensive than Stripe & easy checkout solution for ALL property types. Heartland has made all your credit needs simpler and more efficient for Land Academy members.
Get personalized details for your Heartland plan with a few clicks. Check out our new referral page HERE.
Continue to Get Your Questions Answered!
Schedule 30 min consulting calls with our very own Moderator Kevin Farrell! Members can schedule a 30 min call with Kevin by going to LandAcademy under tools or looking on the right-hand side of LandInvestors.
For just a $100 you can pick Kevin's brain, from deal reviews to where to start with your land business.
Just click the link below and schedule your call today!
---
Have Suggestions For Membership?
Is there a site or tool you use that you think we should add?
Want us to develop a certain type of tool?
Is there something missing from our current sites that you want added?
Have specific content ideas?
We're all ears! We're always adding to membership and improving on what we always have, and we know that you have great ideas!
You can always email us at support@landacademy.com with any suggestions or ideas.
---
Marketing Tips
You Don't Have to Be a Photoshop Wiz
Having quality visuals for your social media content is incredibly crucial – but don't be intimidated! With the increase of content creation, there has also been an increase in accessibility to create content at any skill level. You don't have to be a Photoshop wiz to create high-quality, professional-looking images for social media. In fact, you don't need Photoshop at all! Nowadays, there are several apps and websites that allow you to create amazing looking graphics with little to no prior graphic design knowledge or experience. One of those websites is called Canva, a graphic design platform that allows users to create social media graphics, presentations, posters, documents and other visual content. This platform has a great variety of templates (for FREE) that you can choose from and design visual content by simply editing the text and importing images. The process is incredibly simple and seamless, and the end product always comes out looking great. You can even go beyond images and start making videos as content; you don't need any fancy video editing software or years of experience to do it, either! If you own a Mac computer, you can simply editing videos on iMovie, which comes installed on every Mac computer and is super easy to use.
The point here is that there are several tools at your disposal to create visual content. There are plenty of options out there for those who don't have the budget to outsource these things or the time to learn how to do it all themselves. You may even surprise yourself with what you create!
– Marketing Team
---
---
This month's question came from Julie over on LandInvestors.
How is everyone adjusting their offers for land and houses, due to the global crisis / stock markets plummeting , etc? I was ready to send out a land and house mailer, but now I should adjust my offers? What percentage are you offering NOW? on Land? On Houses?
Check out Steven and Jill's answer HERE.
Check out Julie's question HERE. Make sure you read the answers from our community – we love to hear their valuable input!
Our October Member Spotlight is Chicago's very best husband and wife partners, Tom Debicki and Patrycja Zak.
When Tom and Patrycja joined us three years ago they were buying tax lien properties and had little background in excel but within their first year, they were very successful with 50 deals. After that, they quickly jumped into larger parcels but recently got inspired to go into smaller deals after listening to fellow member Laurie.
Listen to Tom and Patrycja share their struggles and remind us to celebrate the small wins HERE.
---
If you aren't a member yet – why not? We would love to have you "in our corner." Visit LandAcademy.com for more information on joining or to schedule a call with our team.
If you want an opportunity to attend one of the weekly closed member calls to get a taste of what we're about, send an email to support@landacademy.com